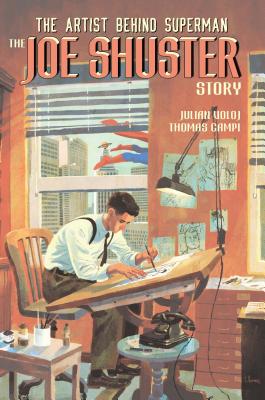 The Joe Shuster Story (Paperback)
The Artist Behind Superman
Super Genius, 9781629917764, 180pp.
Publication Date: May 15, 2018
Other Editions of This Title:
Hardcover (5/15/2018)
* Individual store prices may vary.
Description
Everyone knows Superman, but not everyone knows the story of two youngsters from Cleveland who created Superman. Based on archival material and original sources, "Truth, Justice, and the American Way: The Joe Shuster Story" tells the story of the friendship between writer Jerry Siegel and illustrator Joe Shuster, and puts it into the wider context of the American comicbook industry.
About the Author
Born in Germany to Colombian parents, writer and photographer Julian Voloj explores identity and heritage in his work. He is the author of GHETTO BROTHER from NBM, which was named one of BOOKLIST's top 10 graphic novels of 2016. He lives in New York City.
Praise For The Joe Shuster Story: The Artist Behind Superman…
"The art lends warmth and beauty to this elegy to two kids chewed up by a system that sees dollar signs and goes in for the kill." — PUBLISHERS WEEKLY
"Gorgeous." — io9
The Joe Shuster Story…. "tells the story of Joe Shuster in a most appropriate way — in the form of a graphic novel. Writer Julian Voloj (Ghetto Brother) and artist Thomas Campi have collaborated on a comic experience about America, ambition, the intersection of art and commerce." — SYFY
"Superheroes might have conquered the world, but their real origins are here in this heart-breaking story of youthful nerdy dreams and cruel corporate betrayal. Julian Voloj and Thomas Campi have taken one of the saddest stories in comics and turned it into a lyrical meditation on the complex relationship between daydreams and business. A well-researched primer on American comic book history, a beautifully painted tribute, and a powerful human story: Joe Shuster is all of this and more." — Dylan Horrocks, cartoonist of Sam Zabel and the Magic Pen
"Amazing…. Each panel is a beautiful painting." — Paolo Rivera, artist of Mythos
"A tender graphic history with empathic prose from Julian Voloj and sensuous painting from Thomas Campi…. Should be required reading." — VULTURE
"A superb and emotional graphic novel…. Eye-opening" — COMICS BEAT
"I highly recommend The Joe Shuster Story. I'm happy that Joe, like Bill Finger not long ago, is finally getting his chance to be the hero, or at least the heart, of the story." — Marc Nobleman, author of Boys of Steel
"Terrific… Pop culture fans may know their names without ever reading a Superman book, but even if you know Shuster and Siegel's story, seeing it unfold in a graphic novel of its own is wholly different. A heartbreaking story, to be sure. But one that Superman fans, superhero fans, graphic novel fans, American history buffs, or those who simply enjoy beautiful illustrations will be glad they experienced." — SCREENRANT
"Paints such a vivid picture, one can almost put themselves into this story and walk alongside Joe in his journey…. From childhood to the mid-70's, this well-written and beautifully illustrated graphic novel is a must-read and must-have for any comics historian or DC creator fan." — POP CULT HQ
"Carefully researched… definitely a graphic novel to check out!" — FANBOY FACTOR
"With The Artist Behind Superman: The Joe Shuster Story, Julian Voloj and Thomas Campi have brought forth a fever dream of an all-too-true story of what happens when art and commerce explosively collide. Drawing on immersive research and unrestrained passion, Voloj and Campi bring to life a bygone era whose ghosts still haunt us. This saga of the flesh-and-blood creators of the Man of Steel is simultaneously inspiring and chilling. What a triumph!" — Danny Fingeroth, author of Disguised as Clark Kent: Jews, Comics and the Creation of the Superhero
"Any fan of Superman and comics should read this." — FIRST COMIC NEWS
"Voloj and Campi did a masterful job in weaving historical narrative, politics and pop culture into a nostalgic bitter-sweet journey to a moment in history, and a special friendship, that gave the world Superman." — Asaf Hanuka, cartoonist of The Realist
"Assembled using archival material and first-hand sources, and stunningly painted by Campi, The Joe Shuster Story is necessary reading for fans of the Big Blue Boy Scout, as well as any budding historian of the industry." — PASTE MAGAZINE