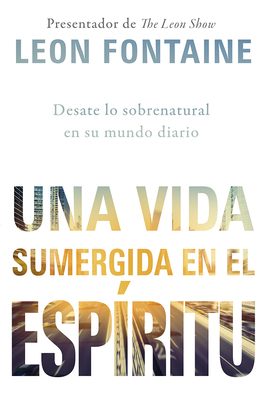 Una Vida Sumergida En El Espíritu / The Spirit Contemporary Life
Desate Lo Sobrenatural En Su Mundo Diario
Paperback

* Individual store prices may vary.
Description
Desate lo sobrenatural en su mundo diario. Qu suceder a si lo sobrenatural se convirtiera en algo m's natural y normal en su vida? C mo cambiar a su mundo si usted viera milagros con regularidad? Y, qu tal si esto sucediera en todas partes a donde fuera, de tal manera que atrajera a la gente hacia Jes s? No solamente marcar a la diferencia en su mundo... har a que el mundo fuera diferente. Puede sonar demasiado bueno para ser verdad... pero eso es Una vida sumergida en el Esp ritu. Cuando trabajaba como param dico en una ambulancia, Leon Fontaine anhelaba ver el poder de Dios en acci n fuera de las cuatro paredes de la iglesia. A trav's de muchas experiencias que cambian la vida, l aprendi que podemos desatar lo sobrenatural de manera que funcione en todas partes: en el hogar, en el hospital, en el trabajo, con cualquier persona Vivir sumergido en el Esp ritu implica comunicarse con los dem's como lo har a Jes's...usando el lenguaje, las historias y los entornos de ellos. Leon usa verdades b blicas e historias personales para revelar la manera en que esta fe din mica del primer siglo puede ser suya cuando vive en completa sinton a con Dios, quien lo gu a de manera tanto naturales como sobrenaturales. Si esto le parece bueno, espere porque esta ser la aventura de su vida Esta transformaci n no solamente lo cambiar a usted. Cambiar al mundo que lo rodea. What if the Supernatural Became Normal and Natural in Your Life? How would your world change if you regularly experienced the miraculous? And what if this happened everywhere you went--in a way that attracted people to Jesus? It wouldn't just make a difference in your world...it would make the world different. It might sound too good to be true...but that's the Spirit Contemporary life. While working as a first responder in an ambulance, Leon Fontaine longed to see God's power at work outside the four walls of the church. He learned through many life-changing experiences that we can all unlock the miraculous in a way that works anywhere--at home, in a hospital, at work--with anyone The Spirit Contemporary way of life involves communicating with others as Jesus would...using their language, stories, and settings. Leon draws on biblical truth and personal stories to reveal how this dynamic first-century faith can be yours when you live so in tune with God that you're guided in ways that are
both natural and supernatural.
Casa Creacion, 9781629993355, 224pp.
Publication Date: August 1, 2017
or
Not Currently Available for Direct Purchase