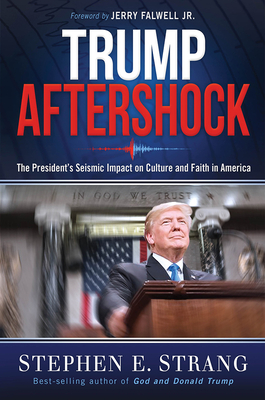 Trump Aftershock
The President's Seismic Impact on Culture and Faith in America
Hardcover

* Individual store prices may vary.
Other Editions of This Title:
Compact Disc (11/6/2018)
MP3 CD (11/6/2018)
Description
Foreword by Jerry Falwell Jr
This book will cut through the media noise and reveal what the media won't cover while objectively helping you understand what our nation's most unlikely and unconventional president has accomplished.
If Donald Trump's election was an earthquake, his accomplishments since then are the aftershocks the world never saw coming.
The Trump agenda, promoted daily to millions of voters is helping to "make America great again." At the same time, the opposition's agenda is to obstruct and ultimately impeach Donald Trump.
Trump Aftershock
by Stephen E. Strang explores how Trump's agenda aims to:
Free the economy and stock market to boom as never before
Restore the federal courts with judges who rule by the Constitution, not legislate from the bench
Address the surge of illegal immigration
Rebuild the US military to ensure peace through strength
Combat the media's fake news war on the president
Deal with Kim Jong-Un, Vladimir Putin, and others through an unconventional approach to foreign policy
Expose the deep state and the agenda of former President Obama
Strengthen ties with Israel and find a lasting peace in the Middle East
Protect religious liberty and traditional values
Uplift America's standing in the world while putting America's interests first
And more
In
Trump Aftershock
, Strang explores Trump's effect on American culture from a Christian perspective.
Additional Features:
Full-color photo section capturing significant moments in the Trump presidency
Graphs and charts to illustrate the latest research and data
Includes Trump's 500 Days of American Greatness
Frontline, 9781629995557, 304pp.
Publication Date: November 6, 2018
About the Author
Stephen E. Strang is the best-selling author of God and DonaldTrump, whichwas brandished by the president during his appearance at Davos World Economic Forum in 2017. The CEO and founder of Charisma Media, Strang was voted by Time magazine as one of the most influential evangelicals in America. He has traveled to more than fifty countries, interviewed four US presidents, and has been featured on Fox News, CNN, MSNBC, CBN, Family Talk With Dr. Dobson, and The DailyCaller.com.