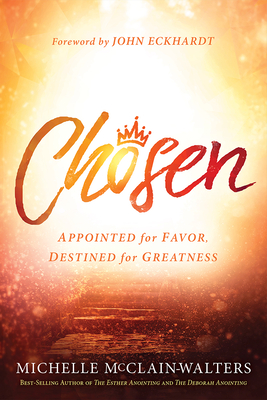 Chosen
Appointed for Favor, Destined for Greatness
Paperback

* Individual store prices may vary.
Description
MANY ARE CALLED, BUT YOU ARE CHOSEN.
This book will equip you with prophetic insight and divine strategies that will jump-start you on the path toward destiny.
There is a distinction between the called and the chosen, the many and the few. Who are these people? How did they get exclusive access to the favor of God? They are confident and prosperous, generous and joyful. They live in the realm of miracles and the supernatural, as if the very breath of God is on every decision they make in life. One season after the next they are catapulted to new levels in life. All they do is win and trample over challenges, disappointments, and attacks from the enemy, while others still remain at the starting line, awaiting breakthrough.
In her book Michelle McClain-Walters shows readers just what this distinction is and how they can live in the fullness of their identity as God's chosen ones. Built on the words of Christ in John 15:16--"You did not choose me, but I chose you and appointed you so that you might go and bear fruit--fruit that will last--and so that whatever you ask in my name the Father will give you"--and Matthew 22:14--"Many are called but few are chosen"--Chosen is a revelation of the spiritual force behind the life of the next-level believer.
Choose now and declare, "I am chosen " and watch as the mysteries of heaven are opened to you.
Also Available in Spanish
ISBN-13:
978-1-62999-289-1
E-Book ISBN:
978-1-62999-290-7
Other Titles by Michelle McClain-Walters
The Hannah Anointing (2019)
ISBN-13:
978-1629995670
The Anna Anointing (2017)
ISBN-13:
978-1629989471
Prayers and Declarations for the Woman of God (2018)
ISBN-13:
978-1629994802
The Esther Anointing (2014)
ISBN-13:
978-1621365877
The Ruth Anointing (2018)
ISBN-13:
978-1629994635
The Deborah Anointing (2015)
ISBN-13:
978-1629986067
Prophetic Advantage (2012)
ISBN-13:
978-1616386238
Charisma House, 9781629996530, 208pp.
Publication Date: September 3, 2019
About the Author
Michelle McClain-Walters has traveled to more than fifty nations and has conducted schools of the prophet that have activated thousands in the art of hearing the voice of God. She is the author of The Prophetic Advantage and four books in the Women of Influence series. For many years she served as director of prayer ministry on the staff of Crusaders Church under the leadership of Apostle John Eckhardt. She was also one of the house prophets and apostolic team leaders at Crusaders Church. She and her husband, Floyd Walters Jr., currently reside in Orlando, Florida.