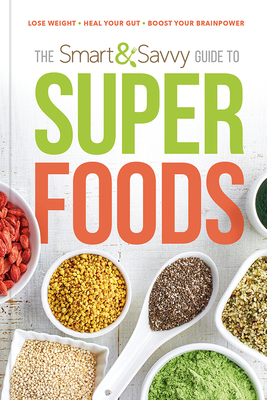 The Smart and Savvy Guide to Superfoods (Paperback)
Lose Weight. Heal Your Gut. Boost Your Brainpower.
Siloam Press, 9781629996967, 224pp.
Publication Date: June 2, 2020
* Individual store prices may vary.
Description
Eating healthy never tasted so good. This book will show you how to make easy, budget-friendly changes to your diet that can help remove toxins from your body, reset food intolerances, and restore your energy. Simple self-care solutions that work.Move over, acai and super beets. Cassava, jackfruit, and monk fruit are sweeping the nation as healthy swaps for wheat, meat, and sugar, respectively. Other new arrivals on the superfood list are pili nuts, tiger nuts, chaga mushrooms, and maqui berries. The newest seeds to snack on? Watermelon The latest superfood smoothie? Collagen Not only are the amazing healing properties of these foods beneficial for a variety of health conditions, they also make useful substitutions in vegan cooking and popular diets like Keto, Paleo, and Whole30. OTHER BOOKS IN THE SERIES:
The Smart and Savvy Guide to Plant-Based Eating (2020)
ISBN: 978-1-62999-698-1.
About the Author
Siloam Brand Vision: Motivating people toward healthy living in body, mind, and spirit. Siloam Brand Promise: To health-conscious people seeking an integrative approach to wellness, Siloam is the leading publisher of biblically based health resources that provide credible and innovative solutions to feel better and live longer.
or
Not Currently Available for Direct Purchase