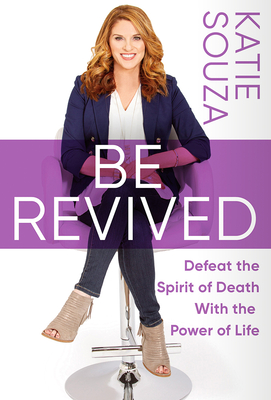 Be Revived (Paperback)
Defeat the Spirit of Death with the Power of Life
Charisma House, 9781629997001, 208pp.
Publication Date: March 3, 2020
* Individual store prices may vary.
Description
You don't have to grow old. You can live forever.
This book will help you walk in God's promises of long-lasting health. The Bible is full of promises related to believers having supernatural youth restored even in their advanced years. Yet few are actually walking in those promises. Instead, a huge percentage of Christians are suffering from some sort of pain, disease, or disorder and are physically and mentally exhausted. Plus, many depend on cosmetic procedures and surgeries to recapture their youthful look.
But what if it were possible to tap into the youth-restoring promises the Bible says are ours? What if these revelations would enable us to run faster, serve stronger, and last longer? What if we could look better than we have in decades
without
cosmetic surgery and costly procedures?
Katie Souza has found secrets in the Bible that show how we can see these manifestations in every part of our bodies. In this explosive study she gives readers the keys that will enable them to tap into the fountain of youth God promised His people.
FEATURES AND BENEFITS:
Gives readers tools to prepare themselves to physically keep up with the new wine of revival God is going to pour out upon the earth
Shows readers how to guard themselves against spiritual attacks on their physical well-being and experience supernatural healing and rejuvenation
Includes questions at the end of each chapter that can be used for personal study or in small groups
OTHER BOOKS BY KATIE SOUZA:
Healing the Wounded Soul
(2017)
ISBN: 978-1629991900
About the Author
Katie Souza writes, teaches, and travels extensively. She is the founder of the prison ministry Expected End Ministries and Katie Souza Ministries and is the author of The Key to Your Expected End (the Captivity series) and Soul Decrees. She produces a live television show, Healing Your Soul: Real Keys to the Miraculous, which airs on international networks such as Daystar Television Network and Family Entertainment Television (FETV). Katie lives in Maricopa, Arizona, with her husband, Robert, and their two small dogs.