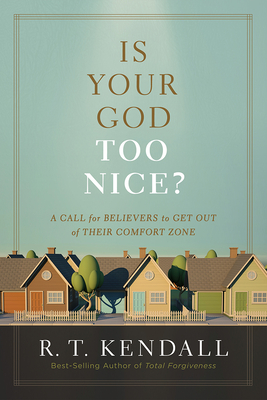 Is Your God Too Nice?
A Call for Believers to Get Out of Their Comfort Zone
Paperback

* Individual store prices may vary.
Description
Do you worship the God of the Bible, or a fictional character?
This book will bring us back to the God of the Bible. Not the God we like or the way we wish He were, but the very God of the Bible--unembellished, unvarnished--as He really is. This does not mean we will like Him. Many times we are embarrassed by the God of the Bible, especially the God of the Old Testament. We are even embarrassed by the teachings of Jesus when it comes to His being the only way to be saved, as well as God's right to judge and reward or condemn. We attempt to manage God's PR and fix His image in the modern world. We are tempted to modify and mold God into what we want Him to be--what we think He should be. Instead we should be finding out where God is and meet Him there, even if that takes us out of our comfort zones.
This book will challenge you to give up your conception of what you would like God to be and come to know Him as He really is.

Other Books by R.T. Kendall:
Word and Spirit (2019)
ISBN-13: 978-1629996493
Total Forgiveness (2010)
ISBN-13:
978-1599791760
Whatever Happened to the Gospel? (2018)
ISBN-13:
978-1629994710
Popular in Heaven Famous in Hell (2018)
ISBN-13:
978-1629995519
The Presence of God (2017)
ISBN-13:
978-1629991573
Holy Fire (2014)
ISBN-13:
978-1621366041
Charisma House, 9781629997186, 224pp.
Publication Date: June 2, 2020
About the Author
R. T. Kendall was the pastor of Westminster Chapel in London, England, for twenty-five years. Born in Ashland, Kentucky, he was educated at Southern Baptist Theological Seminary (MDiv) and Oxford University (DPhil). Dr. Kendall is the author of a number of books, including Total Forgiveness, More of God, Forty Days to Total Forgiveness, and For an Audience of One.
or
Not Currently Available for Direct Purchase