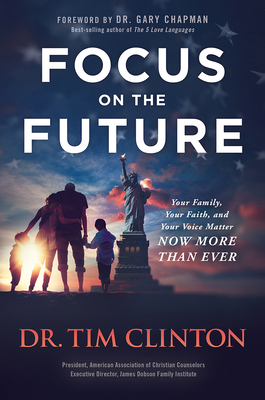 Focus on the Future
Your Family, Your Faith, and Your Voice Matter Now More Than Ever
Hardcover

* Individual store prices may vary.
Description
AMERICA IS AT A CROSSROADS.
The fight for our faith, family, and future is NOT OPTIONAL.
Anxiety, depression, and suicide are at all-time highs. Divorce is prevalent. Children are growing up without fathers in the home, and the family unit as a whole is suffering. Dr. Tim Clinton, one of America's leading voices on faith and mental health, sounds the call for people around the country to step into the moment and rise up to
focus on the future
of America. What does the future hold for America? Will the current and coming cultural battles ultimately destroy or preserve our freedoms? From the president of the American Association of Christian Counselors Dr. Tim Clinton, an eminent American counselor and associate of Dr. James Dobson, believes this moment in American history is a reprieve. It is a moment to take stock. We must know the season we are in, maximize our opportunities, and ready ourselves for the cultural battles that are sure to befall us. It is a moment to prepare. It is a moment to focus on the future.
And it starts with you
The future is bright, the victories are destined, and great things await the faithful who prepare. THE FUTURE, ANCHORED IN CHANGE AND HOPE, BELONGS TO THOSE WHO WILL STEP UP AND INTO THE MOMENT...NOW.
FOREWORD BY DR. GARY CHAPMAN Best-selling author of The 5 Love Languages
Frontline, 9781629997346, 224pp.
Publication Date: October 5, 2021
About the Author
Dr. Tim Clinton, EdD, LPC, LMFT, is the president of the American Association of Christian Counselors, the largest and most diverse Christian counseling association in the world. Dr. Clinton also serves as the Executive Director of the James Dobson Family Institute and co-host of "Dr. James Dobson's Family Talk," heard on over thirteen hundred radio outlets daily. Licensed as a professional counselor and a marriage and family therapist, Dr. Clinton is recognized as a world leader in mental health and relationship issues and spends much of his time working with Christian leaders and professional athletes. He has authored or edited nearly thirty books. He has been married forty years to Julie, and together they have two children, Megan (married to Ben) and Zach, and a new granddaughter, Olivia, who has stolen their hearts.