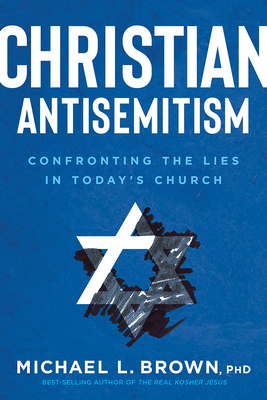 Christian Antisemitism
Confronting the Lies in Today's Church
Paperback

* Individual store prices may vary.
Description
Hate isn't a thing from history. The Jewish people and Israel have been described as "a dominant and moving force behind the present and coming evils of our day"; "a monstrous system of evil... that] will destroy us and our children" if not resisted; and a group that seeks "the annihilation of almost every Gentile man, woman, and child and the establishment of a satanic Jewish-led global dictatorship." What's worse is that these comments were all made by professing Christians. In Christian Antisemitism, respected Messianic Bible scholar Michael L. Brown, PhD, documents shocking examples of modern "Christian" antisemitism and exposes the lies that support them. Carefully researched, this book shows that church-based antisemitism is no longer a thing of the past. Rather, a dangerous, shocking tide of "Christian" antisemitism has begun to rise. In Christian Antisemitism, Dr. Brown shows you how to stem this tide now and overcome the evil of "Christian" antisemitism with the powerful love of the cross This book will show you how to confront everyday antisemitism in all areas of your life and become a champion for the people of Israel.

Charisma House, 9781629997605, 208pp.
Publication Date: February 2, 2021
About the Author
Michael L. Brown, PhD, is founder and president of AskDrBrown Ministries and president of FIRE School of Ministry. The author of more than thirty-five books, he is also the host of the nationally syndicated daily talk radio show The Line of Fire, as well as the host of shows on GOD TV, NRBTV, and METV. His syndicated columns appear on many leading websites, and his scholarly publications range from biblical commentaries to articles in Semitic journals and theological dictionaries. He has served as an adjunct or visiting professor at seven leading seminaries and has debated gay activists, agnostic professors, and Orthodox rabbis on university campuses.