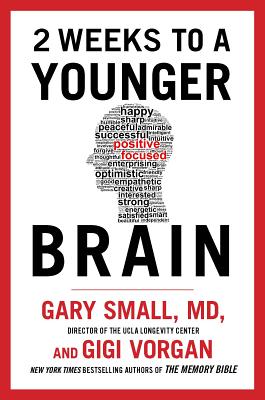 2 Weeks to a Younger Brain (Hardcover)
Humanix Books, 9781630060305, 226pp.
Publication Date: April 14, 2015
* Individual store prices may vary.
or
Not Currently Available for Direct Purchase
Description
Memory problems can begin in people as young as age 20 and mental decline can occur by the time we reach age 40. 2 Weeks to a Younger Brain book explores the latest research in brain science that shows that improving memory also strengthens physical health by reducing the risk of diabetes, heart disease and stroke. There are many easy changes that can be made in one's daily lifestyle that can improve brain health. It takes only two weeks to form new habits that bolster cognitive abilities and help stave off, or even reverse, brain aging.
About the Author
Gary Small: Dr. Gary Small, (Los Angeles, CA) is a professor of psychiatry and director of the UCLA Longevity Center* at the Semel Institute for Neuroscience & Human Behavior. His research, supported by the NIH, has made headlines in the "Wall Street Journal" and the "New York Times." Scientific American magazine named him one

of the world s leading innovators in science and technology. Dr. Small lectures internationally and frequently appears on the "Today" show, "Good Morning America," PBS, and CNN. He has written six books, including the "New York Times" best seller, "The Memory Bible."

Gigi Vorgan: Gigi Vorgan, (Los Angeles, CA) has written, produced, and appeared in numerous feature films and television projects before teaming up with her husband, Dr. Gary Small, to co-write "The Memory Bible," "The Memory Prescription," "The Longevity Bible," "iBrain," "The Other Side of the Couch," and "The Alzheimer s Prevention Program." She lives in Los Angeles with Dr. Small and their two children."
Advertisement