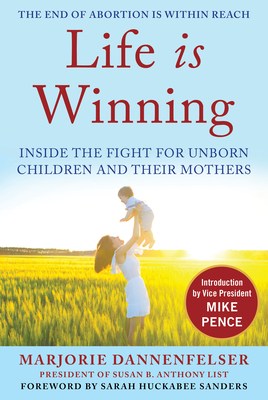 Life Is Winning
Inside the Fight for Unborn Children and Their Mothers, with an Introduction by Vice President Mike Pence & a Foreword
Hardcover

* Individual store prices may vary.
Other Editions of This Title:
MP3 CD (9/28/2020)
Compact Disc (9/28/2020)
Description
LIFE IS WINNING IN AMERICA THE END OF ABORTION IS WITHIN REACH
Marjorie has precisely captured how far the pro-life movement has come and how much we stand to achieve at this pivotal moment. It has never been more critical for each of us to continue to stand up and speak out. I trust that this important book will encourage and inspire government to play an even greater role in restoring the sanctity of life to the center of American law and to encourage us never to doubt that the Author of Life is with us in these efforts. -- Vice President Mike Pence
"America is standing for life again. There has never been a more urgent moment for each and every American who cares about life to stand up. Life Is Winning proves that we don't have to compromise our pro- life principles or stay silent about the things that matter most." -- Sarah Huckabee Sanders
Ahead of the pivotal 2020 elections, momentum is building across America to revisit the 1973 Roe v. Wade decision that struck down laws protecting unborn children and their mothers nationwide. Life is Winning: Inside the Fight for Unborn Children and Their Mothers tells the story of how the pro-life cause went from an orphaned political "problem" to a winning issue embraced at the highest levels of the Republican Party, thanks to a small-but-ambitious group of pro-life women. These women took on Washington's consultant class and in the process built a multimillion-dollar campaign and lobbying powerhouse with more than 900,000 grassroots members nationwide. Marjorie Dannenfelser, President of Susan B. Anthony List and leading architect of the pro-life strategy that helped propel then-candidate Donald Trump to his stunning victory in 2016, gives inside perspective on how her own pro-life conversion - and the President's - resembles the national sea change happening today, and why the end of abortion and restoration of life in America is closer than ever before.
The battle to restore the Right to Life has been long and hard-fought - and for many years now, my friend Marjorie Dannenfelser has been at the vanguard, bringing both wise counsel and principled leadership to the cause. As president of the Susan B. Anthony List, she has led an impressive effort over the last three elections to reach more than 4.6 million voters and elect a pro-life President and a pro-life majority in the United States Senate. Today, thanks to the leadership of President Donald Trump and the compassion, persistence, and prayer of the pro-life movement, life is winning in America. -- Vice President Mike Pence
The pro-life movement in America has persisted in the face of adversity for nearly half a century, but I truly believe it has never been stronger than right now -- and Life Is Winning makes that case in a compelling and winsome way. -- Sarah Huckabee Sanders
Marjorie's journey from pro-choice to a life advocate and her tireless passionate work on behalf of children is truly inspiring. -- Kathy Ireland
"Marjorie and her team at the Susan B. Anthony List are doing God's work. Through honest reflection and personal insight, in Life is Winning, Marjorie shows us not only why she has been a moral leader for decades but why she is one of our country's most savvy political forces." -- Nikki Haley
"If you want to understand why we have the most pro-life president in our history, and how a strong pro-life movement can elect him again, read Life is Winning. You'll understand how the pro-life message wins elections, and will be inspired with lessons from a woman with whom I've been privileged to collaborate for decades " -- Fr. Frank Pavone, National Director, Priests for Life; Co-Chair, Pro-life Voices for Trump
Humanix Books, 9781630061494, 256pp.
Publication Date: August 25, 2020
About the Author
Mike Pence is an American politician and lawyer serving as the 48th vice president of the United States, since 2017. He previously was the 50th governor of Indiana from 2013 to 2017 and a member of the United States House of Representatives from 2001 to 2013.