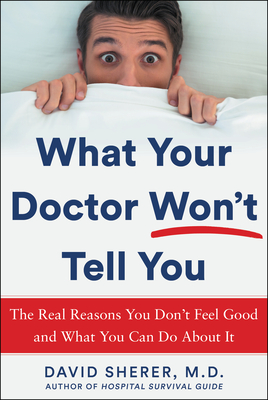 What Your Doctor Won't Tell You
The Real Reasons You Don't Feel Good and What You Can Do about It
Hardcover

* Individual store prices may vary.
Description
THIS BOOK WILL SAVE YOUR LIFE -- NEWSMAX
In WHAT YOUR DOCTOR WON'T TELL YOU: The Real Reasons You Don't Feel Good and What YOU Can Do About It, Dr. Sherer provides readers with verifiable information about current medicine, healthcare and relevant public policy so they can make their own best judgments as to whether a change in their behavior will, if they are inclined, effect a positive change in your life. He strips away the veneer of political correctness when it comes to health and provides the basic truths behind the implications of the daily decisions we make that affect out health. These decisions, mostly based in how we approach food, physical activity, our mental and emotional states, our interactions with others and our approach to accessing healthcare, have profound effects on our physical, mental and emotional states. Rather than being a book on how to eat, how to exercise, how to shop for a health plan and so on, this work strives only to inform. Because with information comes power. And with power, there is the potential for positive change.
Bold enough to tell you what many medical professionals haven't the courage to say, Dr. David Sherer's book is chock-full of inside information on health, healthcare, related public policy, as well as the latest in prevention, diagnosis, and treatment of diseases from depression, diabetes, and heart disease to autoimmune disorders, neurological diseases, and asthma. WHAT YOUR DOCTOR WON'T TELL YOU delivers straight, unfiltered, and evidence-based answers on topics such as:
The real causes of the obesity epidemic and how it can be tamed
Your best options for anesthesia for different surgeries and procedures
The difference between an MD and a DO and why it matters
Why colon cancer is skyrocketing in young people
The best ways to buy and use medical cannabis
7 ways to make outpatient surgery safer and much, much, more
WHAT YOUR DOCTOR WON'T TELL YOU: The Real Reasons You Don't Feel Good and What YOU Can Do About It will become your primary source for all those questions your doctor doesn't have time to answer -- answers that can save your life
Humanix Books, 9781630061654, 256pp.
Publication Date: March 16, 2021
About the Author
David Sherer, MD (Chevy Chase, MD) is an American physician, author and inventor. He is a member of Leading Physicians of the World, and a multitime winner of HealthTap's leading anesthesiologists award. Dr. Sherer has retired from his clinical anesthesiology practice in the suburbs of Washington, DC, and now focuses on patient education, writing and patient advocacy; including as a medical and health video commentator for Bottom Line Inc.'s WHAT YOUR DOCTOR ISN'T TELLING YOU columns and podcasts. The author of Hospital Survival Guide: The Patient Handbook to Getting Better and Getting Out, he also holds two US patents in the fields of critical care medicine and telecommunications. Appearing in all forms of media, Dr Sherer is a tireless advocate for hospitalized patients, and believes that individual responsibility, and not government intervention, is the key to improving the general health and wellbeing of all Americans. https: //bottomlineinc.com/source/david-sherer The author lives & works in the Washington DC metro area.