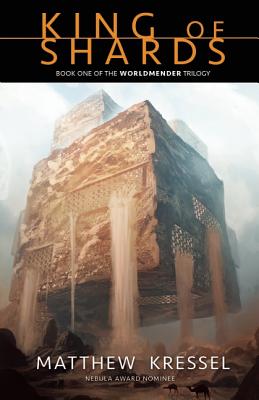 King of Shards (Paperback)
Arche Press, 9781630230289, 320pp.
Publication Date: October 13, 2015
Other Editions of This Title:
MP3 CD (8/2/2016)
* Individual store prices may vary.
Description
Across the ineffable expanse of the Great Deep float billions of shattered universes: the Shards. Populated with vengeful demons and tormented humans, the Shards need Earth to survive just as plants need water. Earth itself is kept alive by 36 righteous people, 36 hidden saints known as the Lamed Vav. Kill but a few of the Lamed Vav and the Earth will shatter, and all the Shards that rely upon it will die in a horrible cataclysm.
When Daniel Fisher is abducted on his wedding day by the demon king, Ashmedai, he learns he is a Lamed Vav, one of the hidden righteous upholding the world. The demon Mashit has usurped the throne of demonkind from Ashmedai and has been systematically murdering the Lamed Vav. On a desert-covered Shard teeming with strange creatures, pursued by a fearsome demon army, Daniel and Ashmedai, saint and demon, must join forces to stop Mashit before she destroys all of existence. Daniel's survival means he must ally with evil Ashmedai. Yet who but a sainta Lamed Vavcan save the world?
About the Author
Matthew Kressel is a Nebula Award-nominated writer and World Fantasy Award-nominated editor living in Ridgewood, NY. King of Shards is his first novel.
or
Not Currently Available for Direct Purchase