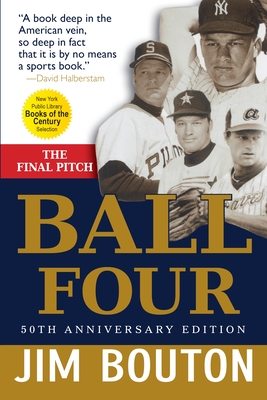 Ball Four (Paperback)
The Final Pitch
Turner, 9781630260347, 508pp.
Publication Date: April 1, 2014
Other Editions of This Title:
Hardcover (1/1/2010)
MP3 CD (9/23/2014)
Paperback (7/1/1990)
Compact Disc (4/2/2013)
MP3 CD (4/2/2013)
MP3 CD (4/2/2013)
Compact Disc (4/2/2013)
* Individual store prices may vary.
Description
The beloved baseball classic now available in paperback, with an updated epilogue by Jim Bouton When Ball Four was first published in 1970, it ignited a firestorm of controversy. Bouton was called a Judas, a Benedict Arnold, and a "social leper" for having violated the "sanctity of the clubhouse." Baseball commissioner Bowie Kuhn attempted to force Bouton to sign a statement saying that the book wasn't true. Ballplayers, most of whom hadn't read the book, denounced it. The San Diego Padres burned a copy in the clubhouse. It was even banned by a few libraries. Almost everyone else, however, loved Ball Four, and serious critics called it an important document. Fans liked discovering that the athletes they worshiped were real people. Historians understood the value of the book's depth and honesty. Besides changing the public image of athletes, the book played a role in the economic revolution in professional sports. In 1975, Ball Four was accepted as legal evidence against the owners at the arbitration hearing that led to free agency in baseball, and by extension, in other sports. Today Ball Four has taken on another role-as a time capsule of life in the sixties. "It is not just a diary of Bouton's 1969 season with the Seattle Pilots and Houston Astros," says sportswriter Jim Caple. "It's a vibrant, funny, telling history of an era that seems even further away than three decades. To call it simply a 'tell-all book' is like describing The Grapes of Wrath as a book about harvesting peaches in California.
About the Author
After his career as a major league pitcher, Jim Bouton was a writer, businessman, motivational speaker, and ace pitcher for a semipro baseball team near his home in Teaneck, New Jersey. He passed away in July 2019.