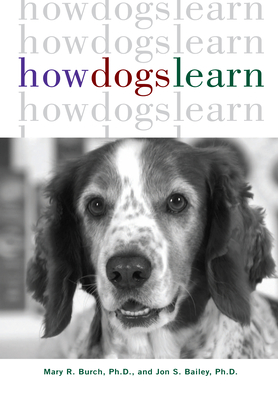 How Dogs Learn (Paperback)
Howell Books, 9781630260392, 208pp.
Publication Date: May 1, 1999
Other Editions of This Title:
Hardcover (5/1/1999)
MP3 CD (1/31/2017)
Compact Disc (1/31/2017)
Hardcover (5/1/1999)
* Individual store prices may vary.
Description
How Dogs Learn explains the fascinating science of operant conditioning. The authors, recognized experts in this field, are also experienced dog trainers, and they explain each operant conditioning principle using dog training examples. For the first time, behavioral procedures that are used with humans, such as Behavioral Diagnostics and Functional Analysis, have been translated for applications with dogs. How Dogs Learn will help all dog owners solve canine behavior problems and improve their proficiency as trainers.
About the Author
MARY R. BURCH, PHD, is a Certified Behavior Analyst. She has also been approved as a Certified Applied Animal Behaviorist by the Animal Behavior Society. Her behavioral research has been published by the U.S. Department of Education. Dr. Burch has trained dogs to the advanced levels of obedience and is considered a national expert on the topic of therapy dogs. She is the author of Volunteering with Your Pet and The Border Collie, published by Howell Book House. Dr. Burch has won the Maxwell Medallion from the Dog Writers' Association of America for her writing on dog-related topics. She is a founding member of the Animal Trainer's Forum in the Association for Behavior Analysis.JON S. BAILEY, PHD, is a Professor of Psychology at Florida State University. Dr. Bailey is a Fellow of the American Psychological Association and was on the Board of Directors of the Society for the Experimental Analysis of Behavior. Dr. Bailey is a past editor of the Journal of Applied Behavior Analysis. He is the author of the book Research Methods in Applied Behavior Analysis, the co-author of Behavioral Diagnostics, and is one of the most widely published researchers in the field of behavior analysis. Dr. Bailey serves as an expert witness on behavioral issues.