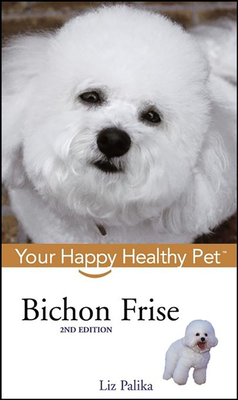 Bichon Frise (Paperback)
Your Happy Healthy Pet
Howell Books, 9781630260590, 146pp.
Publication Date: April 10, 2006
* Individual store prices may vary.
Description
The authoritative information and advice you need, illustrated throughout with full-color photographs--now revised and redesigned to be even more reader-friendly
Fluffy, white powder puffs with paws, irresistible Bichon Frises are intelligent and adaptable. They're happy up in a high-rise or down on the farm--as long as they're around people Always ready to snuggle or play, Bichons compete in obedience and agility and make wonderful therapy dogs with their adorable looks and affectionate nature. This guide fills you in on the breed's needs and attributes, covering:
* Traits to look for, including the dark eyes and double coat
* Things you'll need to make your pup feel at home
* Feeding, grooming, and healthcare
* The importance of positive, firm training to keep the Bichon's natural independent streak under control
* Bonus chapters available on companion Web site
Your Bichon will greet you enthusiastically every time you come home. Just don't be gone too long, because you'll be missed.
About the Author
Liz Palika is an award-winning author and a well-respected dog trainer. Her work has been published in all the major pet magazines, including ""DogWorld, Dog Fancy, AKC Gazette, Cats, Cat Fancy, Dogs USA, Puppies USA, "" and others. Her work has also appeared in mainstream publications such as ""Newsweek, The Saturday Evening Post, "" and ""Women First."" The author of more than forty-five books, ""Save That Dog!"" won a Maxwell Award from the Dog Writers Association of America and the first ASPCA Pet Overpopulation Award. Her dog training book, ""All Dogs Need Some Training, "" was named one of the ten best training books available to dog owners by ""Pet Life"" magazine.Liz is the owner of Kindred Spirits Dog Training in Southern California, where she teaches family pet obedience classes, as well as noncompetitive agility and therapy dog training. She was a founding member of the Association of Pet Dog Trainers and of the International Association of Canine Professionals.