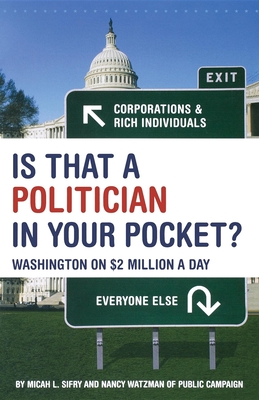 Is That a Politician in Your Pocket (Hardcover)
Washington on $2 Million a Day
Wiley, 9781630261191, 242pp.
Publication Date: July 1, 2004
* Individual store prices may vary.
Description
"Get rich quick Read this book and learn how to invest in politicians for fun and profit Just don't leave this book where any regular voters can read it "
-Arianna Huffington, author of Pigs at the Trough
Every day corporations and other wealthy special interests pump another $2 million into the coffers of our elected officials in Washington and their party committees. For their money they get an estimated $160 billion a year in tax breaks, subsidies, and other sweet deals. That's $160 billion lifted from taxpayers' pockets-or about $1,500 per taxpayer per year But that's not the worst of it. Their money also buys them the opportunity to shape public policy to suit their bottom lines. And the cost we pay for that is much dearer. Blending satirical bite with mountains of eye-opening research, this rollicking call to arms breaks the issue into manageable, kitchen-table topics and makes it accessible with graphs, tables, sidebars, quizzes, and fascinating factoids.
"Sifry and Watzman lay it all out with no bark on it in this devastatingly straight-forward book-the overt corruption of our country through what we politely call 'the campaign finance system.' Legalized bribery is the root of our political rot and few people know more about how to fix it and have done more to fix it than the good folks at Public Campaign."
-Molly Ivins, author of Bushwhacked
"Sifry and Watzman are two of the most astute observers of political influence in this country. Their important new book names names and cuts through the bull about the issues that affect our daily lives, in a wonderfully amusing but drop-dead accurate way "
-Charles Lewis, author of The Buying of the President 2004.