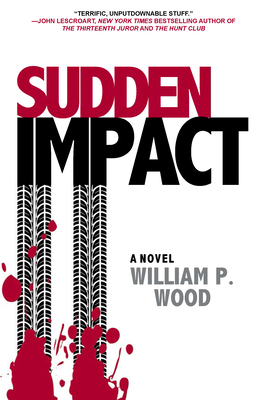 Sudden Impact
Hardcover

* Individual store prices may vary.
Other Editions of This Title:
Paperback (2/18/2014)
MP3 CD (6/14/2016)
Description
Bestselling author William Wood spins this dark, riveting tale of a beloved Sacramento cop killed in a bizarre accident, and the hunt to track down his killer--a fast-paced thriller of murder, deceit, haunting pasts, and one man's dangerous scheme to fight for those he loves.
Officer Tommy Ensor did not see the car that struck him down on a rainy night in California's capital.
Ensor is no ordinary cop. He's a hero, winner of the Medal of Valor, devoted family man and coach, helping at-risk kids. But the driver who struck him down and didn't stop isn't ordinary either. He's Judge Frank Stevenson, up-and-coming member of the bench, also devoted to his wife and daughter, involved in charities and good works. In a split second he did something completely uncharacteristic that irrevocably changes his life and the lives of everyone close to him.
Terry Nye is a couple of weeks from retirement as a detective, head of Major Crimes. He's trying to pack thirty years of bloody experiences and hard lessons into those two weeks for his new partner, Rose Tafoya. Rose is a young detective, smart, more than a little ambitious, but also insecure. Together she and Nye are a powerhouse team. He's determined to find Ensor's assailant and he's going to make sure Rose doesn't make the same mistakes he did, especially the unforgivable one that has come back to darkly haunt him after Ensor's accident.
The city is in turmoil when Ensor dies and the hunt for a cop killer rushes ahead relentlessly, moving from Nye and Tafoya to Stevenson and his wife. The guilty and innocent are sucked randomly into the intense, high-powered investigation. Nye and Rose face death in a shoot-out; a politician's sad, dirty secret is exposed; and ambitions threaten to destroy the investigation.
The hunters and the hunted know the stakes are life and death.
Frank Stevenson knows he's being hunted. Stevenson is both stunned because he didn't stop that rainy night and steeled to do whatever he has to do to avoid the hunters. Even if it means committing more crimes. He's not just protecting himself. He's fighting for those he loves.
Stevenson comes up with a brilliant scheme to throw Nye and Tafoya off the track. But even if it works, Stevenson is tormented wondering how he can sit in judgment on others now.
A final hard moment of reckoning arrives for the hunters and the hunted. Everyone will realize that their lives will change in the blink of an eye.
Turner, 9781630264321, 426pp.
Publication Date: February 18, 2014
About the Author
WILLIAM WOOD is the bestselling author of eight novels and one nonfiction book. As a deputy district attorney in California, he handled thousands of criminal cases and put on over 50 jury trials. Two of Wood's novels have been produced as motion pictures, including Rampage, filmed by Academy Award winning director William Friedkin (The French Connection, The Exorcist, Rules of Engagement), and Broken Trust, filmed by Jane Fonda Films with the screenplay written by Joan Didion and her husband John Gregory Dunne. Wood's books have been translated into several foreign languages including French, Spanish, Japanese, German, Greek, and Polish. He lives in Sacramento, California.