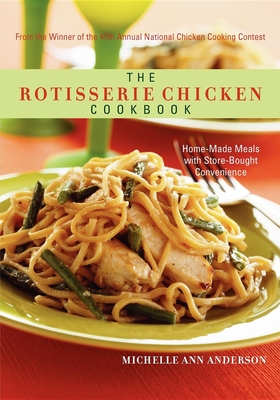 The Rotisserie Chicken Cookbook (Hardcover)
Home-Made Meals with Store-Bought Convenience
Cumberland House Publishing, 9781630264628, 262pp.
Publication Date: September 1, 2008
Other Editions of This Title:
Paperback (9/1/2008)
* Individual store prices may vary.
Description
Like many busy home cooks, Michelle Ann Anderson relies on some convenience foods in preparing dinner for her family. In The Rotisserie Chicken Cookbook she shares nearly 200 recipes that she has created by converting store-bought rotisserie chicken into quick, convenient, and delicious meals. The seven chapters and sample recipes include: Appetizers: Tarragon Chicken Salad-Stuffed Cherry Tomatoes * Brie, Cranberry and Chicken Mini Pizzas * Sweet Pepper Relleno Poppers * Monte Cristo Minis * Dolmas * Mango Chicken Bruschetta Sandwiches & Wraps: Chicken Quesadillas with Cranberry Cream Havarti * Chicken Baba Ghanoush Flatbread Sandwiches * Plum Chicken Baked Buns * Red Curry Chicken Turnovers * Moroccan Inspired Chicken Tea Sandwiches Salads: Chicken Tostada Compuesta * Chicken Panzanella * Thai Chicken Cabbage Salad with Peanut Dressing * Edamame-Chicken Cold Rice Salad * Coyote Chicken Asparagus Salad with Plum Dressing * Grapefruit Chicken Salad Soups: Chicken and Kohirabi Soup * Chicken Vegetable Soup with Udon Noodles * Mushroom Thyme Chicken Soup with Truffle Oil Drizzle * Chicken and Escarole Soup * Sweet Potato, Black Bean and Chicken Soup * Hot & Sour Chicken Soup Entr es: Chicken Fettuccini with Walnuts, Cranberries, and Arugula * Asiago-Chicken Stuffed Portabellas * Warm Cranberry-Jalape o Compote Chicken * Moroccan Chicken * Red Curry Pineapple Chicken with Rice Casseroles: Baked Creamy Sofrito Penne * Parmesan Chicken and Eggplant Bake * Curried Chicken Casserole * Lemon-Raspberry Scented Chicken and Potato Gratin * Chicken and Fig Casserole Breakfast and Brunch: Chicken and Asparagus Crepes * Chicken Caprese Strata * Mini Jalape o Chicken Quiche * Terragon Chicken Omelet with Haverti * Steamed Egg Cups with Chicken and Enoki * Chicken Artichoke Frittata.