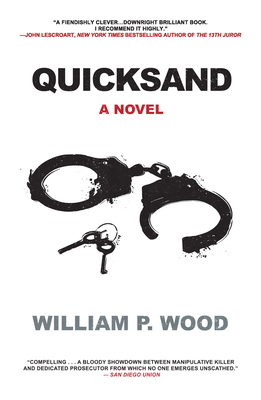 Quicksand
Hardcover

* Individual store prices may vary.
Other Editions of This Title:
Paperback (11/18/2014)
MP3 CD (6/14/2016)
Description
As head of California's task force on narcotics and organized crime, Brock Andrews has earned his reputation as a tough, no-nonsense law enforcement agent. With his hardball tactics and skillful handling of informants, his team has successfully brought down some of the country's most violent and powerful criminals. But it's Brock's superior who's about to become his greatest adversary. Her name: Alison Andrews, First Assistant United States Attorney . . . and Brock's wife.
Publicly, Alison and Brock Andrews are a dynamic power couple at the pinnacle of federal law enforcement. Privately, their marriage is on the rocks. And the growing tension between them has only worsened with Alison's release of Edward Nelson, the disgraced CIA employee and international arms dealer Brock arrested months earlier in the biggest bust of his career. What Brock doesn't know is that Alison has recruited Nelson as her most important undercover operator in a plot to ensnare a ring of domestic terrorists smuggling arms overseas. Nelson, a master manipulator skilled at deadly games, has a plan of his own--to turn Alison's undercover operation inside out, unleash a secret army of heavily armed militiamen, and target Washington's high-powered political arena for a terrorist act of unparalleled proportions.
Nelson is once again number one on Brock's most wanted list. But with Alison protecting him from arrest, the only way to get to him is through an informant Brock has taken into custody. And while crucial information from this secret source helps Brock put together the pieces of Nelson's insidious plan, it lays open more questions--and even more disturbing possibilities, including Alison's complicity in criminal activity. Soon, Brock finds himself deep in a morass of shifting loyalties, outright betrayals, and hidden agendas that leave him running out of trust--and time. One thing is certain. Each hour matters, as Brock sets a dramatic trap to capture Nelson . . . and stop a terrifying attack on the heart of the nation. But first, he has to uncover the most dangerous truth of all . . .
Turner, 9781630267476, 344pp.
Publication Date: November 18, 2014