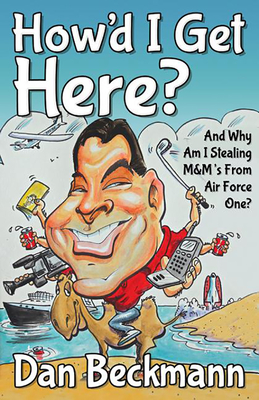 How'd I Get Here? and Why Am I Stealing M&m's from Air Force One? (Paperback)
Morgan James Publishing, 9781630470562, 190pp.
Publication Date: July 8, 2014
* Individual store prices may vary.
Description
Dan Beckmann appears to be an average guy living a common life. That is, until he begins to share his extraordinary collection of surprising stories. He finds adventure the way he finds friends--everywhere. Through his witty, lighthearted, and entertaining tales, he reminds us that the best things in life are free, that extraordinary adventures are always waiting just around the corner--and that it's never too late to laugh your way to the finish line. No matter where you are in life there are people around you who help you step up, step over, or step to it. Even if you've stepped in it.
About the Author
Dan Beckmann worked as a cameraman for NBC News for 15 years. While on staff in Tel Aviv, he helped cover the continuation of the Middle East Peace Process. His travels have taken him throughout Europe, Asia, and the Middle East, helping NBC cover a wide range of stories: from the Olympics in Torino, to coverage of 9-11 at Ground Zero, Hurricane Katrina, and presidential campaigns aboard Air Force One. Aside from The Today Show, Dateline, Nightly News with Brian Williams, and MSNBC, Dan's work has also been featured on Good Morning America, ESPN, CBS News, CNN, National Geographic, A&E, the BBC, and many other programs worldwide. Dan is an accomplished columnist, speaks four languages, flies airplanes, loves wine and plays the piano badly. Most likely a result of the wine. He's traveled a long way from Fenton, Missouri.