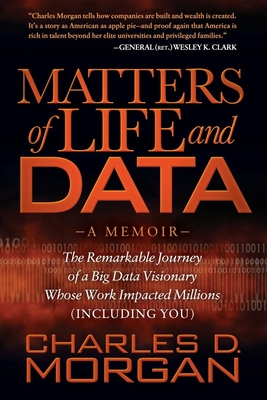 Matters of Life and Data
The Remarkable Journey of a Big Data Visionary Whose Work Impacted Millions (Including You)
Paperback

* Individual store prices may vary.
Other Editions of This Title:
Hardcover (2/24/2015)
Description
"I didn't set out to become a collector of your and your neighbors' information. When I was growing up, nobody but egghead scientists talked about 'data.' It was the mechanical age, and I was a gadget geek, taking apart my cousin's toys and trying to put them back together again. I was especially crazy about cars and engines, and had it not been for a fateful encounter during college recruiting season, I might've lived my life as a race car mechanic instead of learning about computers at IBM. As it turned out, pursuing Big Data allowed me the resources to become a professional race car driver on the side, competing against the likes of Paul Newman, who makes appearances in these pages as well.
"Such are the wonders of this journey we're all on. Mine has taken me from the frontier of western Arkansas, where my ancestors owned a hardware store selling iron tools to westbound travelers, to the frontier of the digital age, where room-size computers have become eclipsed by the power of smart phones. And in a sense, the story you're about to read isn't so different from those of the colorful adventurers who stocked up their wagons at my family's hardware emporium and headed west to make their fortunes. Data mining is the new gold rush, and we were there at first strike, dragging with us all our human frailties and foibles. In this book's cast of characters you'll find ambition, arrogance, jealousy, pride, fear, recklessness, anger, lust, viciousness, greed, revenge, betrayal, and then some.
"It is a messy story. In the big picture, this could be called a narrative of America since World War II. But in the micro telling, think of it this way: The man who opened your lives to Big Data finally bares his own.
Morgan James Publishing, 9781630474652, 400pp.
Publication Date: January 20, 2015
About the Author
Charles D. Morgan is the visionary former Chairman and CEO of Acxiom Corporation, world leader in data gathering and its accompanying technology, with 1,500 separate pieces of information on some half a billion people around the globe. A gadget geek from childhood, Morgan has raced motorcycles, flown jets, and built and driven his own race cars in a professional career that includes victories at both the 12 Hours of Sebring and the 24 Hours of Daytona, along with 17 other wins. Now CEO of his latest tech venture, PrivacyStar, he lives in Little Rock, Arkansas, with his wife, Susie.