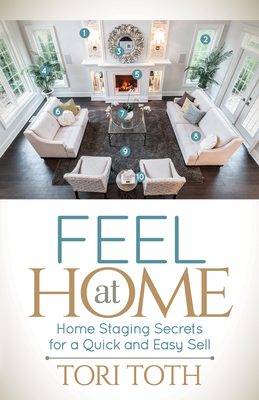 Feel at Home
Home Staging Secrets for a Quick and Easy Sell
Paperback

* Individual store prices may vary.
Description
In a perfect world you wouldn't need to be living in your home while on the market. However, the list of reasons why someone sells is endless and in many cases forces a homeowner to stay put when selling.
The experience can be grueling for sellers when your personal lives become public displays to strangers and their criticisms. If you're going to be living in your home when selling you have to willingly be inconvenienced---not only emotionally, but physically. So what's the best way to get out from under the microscope? Sell fast.
In this game-changing book by Tori Toth, founder of the Stage 2 Sell Strategy and Stylish Stagers, Inc. you'll discover: how home staging can change habits and emotions that will benefit your bottom line---and ultimately put a "sold" sign on your property.
Preparing your home for sale is more than just cleaning and decluttering, learn insider home staging secrets on how to make your space feel like home to potential buyers. When buyers feel at home, they're more comfortable and can relate to the space, which ultimately gets them to make an offer. How fast can you sell your home? See for yourself.
InFeel at Home, home staging expert Tori Toth pulls back the curtains on the home staging industry and shows you a simple 10-step plan for making an impact on your housing market. The place that you've called home is about to become your greatest asset, I'm here to help you get the best return on your investment.
Morgan James Publishing, 9781630474713, 160pp.
Publication Date: August 4, 2015
About the Author
Tori Toth has been blessed to feel at home again in her Howard Beach bungalow after surviving Superstorm Sandy in 2012. Since then, she has dedicated her life to helping homeowners, builders, investors, and realtors create a lifestyle home buyers will aspire to. As a professional home staging expert, trained through Home Staging Resource and by HGTV star Matthew Finlason of The Stagers, she has prepared hundreds of clients' homes focusing on target staging and lifestyle merchandising. It has always been Tori's initiative to educate home sellers on ways to prepare and showcase their homes for sale. That's why she is not only an active member of the Real Estate Staging Association (RESA), but she's created a series of "how-to" home staging videos that have been watched over 100,000 times on YouTube and have helped her reach home sellers near and far. Tori's goal is "to make home staging a real estate standard." She has been interviewed by CNN Money and Long Island Weekly and is a contributor for Mann Report Residential.