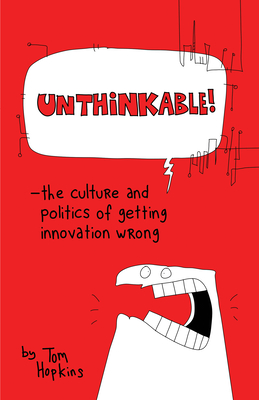 Unthinkable
The Culture and Politics of Getting Innovation Wrong
Paperback

* Individual store prices may vary.
Description
Unthinkable is the first book on innovation to be written from the trenches. Expert Tom Hopkins explains why big companies so often fail to do new things, and clearly explores the solutions pioneered at product and service innovation company Fluxx. Identify with real-life stories of new product development gone wrong. Learn about the underlying human and business factors which can derail even the most well equipped teams. Understand new approaches that can deliver successful outcome for you today. Tom's examples are drawn from extensive experience working with many of the world's biggest brands at Fluxx, offering inspiration and enthusiasm for leaders embarking on the uphill struggle of innovation in established businesses. Tom captures exactly what it's really like to try to do new things in a big company. There's no management textbook waffle here, just real lessons from the school of hard knocks and genuinely useful advice for leaders brave enough to look for a new way. --Rupert Howell, Founder of HHCL Simply one of the most concise, common sense and useful books on the subject I've seen in ages. --Dominic Vallely, Former Deputy Controller of BBC2 and Founder of The Giving Lab Read this if you like to be challenged. Read this if you don't like the hype about innovation. Read this if you want some hard-won lessons and plain-spoken explanations from someone who has worked at the sharp end of innovation and business. --Antony Mayfield, Founder of Brilliant Noise.
Morgan James Publishing, 9781630474836, 178pp.
Publication Date: August 4, 2015
About the Author
Tom Hopkins is a digital, creative, and design business leader, holding senior positions in many of the world's most influential companies. While writing Unthinkable, he was principal consultant at Fluxx, a product and service innovation company in London. Hopkins now serves as product innovation director for Experian Consumer Services.