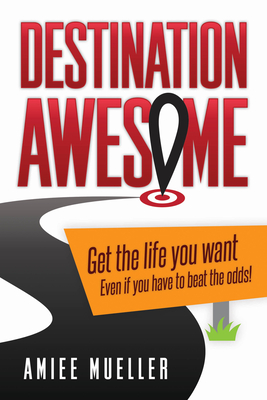 Destination Awesome
Get the Life You Want Even If You Have to Beat the Odds
Paperback

* Individual store prices may vary.
Description
You can have an awesome life no matter where you've been or where you are now. That's a truth Amiee Mueller learned from experience. Part self-help, part memoir, Destination Awesome is both a beacon and a road map that will help young adults of every background achieve independence, success, and fulfillment. No matter if you're living with your parents, in school housing, or couch-surfing; no matter if you have big dreams, simple plans, or are unsure of what you want to do with your life; no matter the money in your bank, the challenges you face or the number of contacts in your phone, the simple, relatable lessons in Destination Awesome will help you create the life you desire. Some of the things you'll discover are how to: - Turn your peers into a positive circle of influence - Learn proven strategies from others without having to pay for it - Overcome the fears keeping you from doing what you want - Reframe your focus and position yourself for victory - Stand out from your competition and be above average The best part is Destination Awesome covers every strategy through sharing true stories of both Mueller's own and of other young adults who succeeded against all odds. In this humorous read, Mueller reveals how she became the only member of her family to escape a poverty-stricken, unstable, and physically and emotionally wounding environment. She grabs at your heart, pulls you in, and offers a distinctive perspective on achievement. Whether your challenges are the same as these young adults--a negative home environment, drug addiction, a physical ailment, unplanned pregnancy, homelessness, cockroach infestation, uncontrollable vomiting--or something completely different, the strategies you'll learn will help you create your awesome life.
Morgan James Publishing, 9781630475031, 210pp.
Publication Date: September 8, 2015
About the Author
After graduating at the top of her college class, Destination Awesome author Amiee Mueller opened her first business. Experiencing award-winning success and earning six figures by age twenty-five, she began mentoring other young adults and has helped over a thousand on their paths to personal and professional success. Mueller is a sought-after speaker and trainer, the founder of AmieeMueller.com--which helps young adults achieve personal, professional, and academic success--an advisory board member for the Front Row Foundation, and vice president of Vast Action, Inc., a company dedicated to the success and support of entrepreneurs.