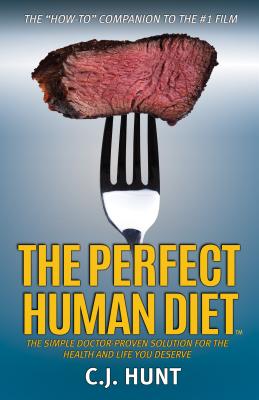 The Perfect Human Diet (Hardcover)
The Simple Doctor-Proven Solution for the Health and Life You Deserve
Morgan James Publishing, 9781630475468, 204pp.
Publication Date: October 1, 2015
Other Editions of This Title:
Paperback (10/1/2015)
* Individual store prices may vary.
Description
The Perfect Human Diet, the companion book to the number one film which defined the real paleo diet, is a game changer in the world of health and nutrition. The result of broadcast journalist C.J. Hunt's unprecedented global exploration for a solution to our exploding epidemic of obesity and diet-related disease- the #1 killer in America. It's a fascinating treasure hunt - the unexpected discovery of the authentic human paleo diet - and The Perfect Human Diet's doctor proven solution for achieving optimal human health and longevity.
Inside, you get exclusive access to the world's foremost authorities on evolutionary anthropology and the emerging field of "human dietary evolution." You will bypass current dietary groupthink and see for yourself the exciting proof that ends dietary confusion. And join the thousands of film viewers worldwide who say they finally understand the full human story, gaining a new confidence to take charge of their own health and wellbeing.
Fascinating and compelling, you get the secrets about the perfect human diet that were previously unknowable - no more dietary theories from diet guru's to misguide you - The Perfect Human Diet gives you the facts. Uniquely easy to put into use, C.J. Hunt explains a new method of eating to optimize your health based on these breakthrough scientific facts, including detailed grocery shopping advice and great tasting recipes.
Described as "irrefutable" and "the answer to the obesity epidemic," The Perfect Human Diet will forever change the way you think about food and guide you to the health and life you deserve.
About the Author
C.J. Hunt is the writer, producer and host of the breakout film hit The Perfect Human Diet, #1 Independent Film, #1 Documentary Film, Top 10 Movie iTunes USA/Canada and #1 Amazon VOD Jan. 2013. The film evolved from his true life story, beginning in 1978 when paramedics brought Mr. Hunt back to life at the age of 24 after a full cardiac arrest. This shocking experience evoked an intense passion to discover how we can all achieve the health and the life we deserve. Graduating Summa Cum-Laude in Electronic Communications Arts B.A. Radio/TV at SFSU, Mr. Hunt has more than twenty years in broadcasting, voiceovers, television and live events, and is the author of two previous books on diet and health.
or
Not Currently Available for Direct Purchase