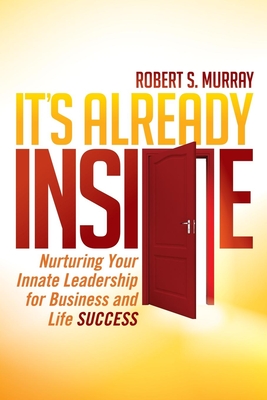 It's Already Inside
Nurturing Your Innate Leadership for Business and Life Success
Paperback

* Individual store prices may vary.
Description
Whether you want to be CEO of a large corporation, lead a sales team, inspire your organization, or just be a better person, It's Already Inside shows with real-life examples how to get there. Author Robert Murray shares amazing stories packed with life lessons, from growing up with legendary athlete Terry Fox to running with singer Billy Idol and running from grizzly bears, having a colleague die in his arms, standing on top of Mount Kilimanjaro, and being arrested in Hong Kong. This entertaining journey of personal discovery and the awakening of your authentic self will show you what you need to do to achieve happiness and success.
Morgan James Publishing, 9781630476250, 240pp.
Publication Date: January 10, 2016
About the Author
Preface 1 Chapter 1 Is Your Character Contagious? 5 Chapter 2 The "Roof of Africa" 15 Chapter 3 "Why?" Unlock This Code and Watch What Happens! 38 Chapter 4 The Magic Question 44 Chapter 5 Keep It Simple 49 Chapter 6 Pit Stop 53 Chapter 7 Execute Like a Pilot 60 Chapter 8 Get Your Car Keys 66 Chapter 9 What Are You Famous For? 71 Chapter 10 Lessons from Billy Idol 75 Chapter 11 Doug 84 Chapter 12 Running with Grizzly Bears 95 Chapter 13 Being Downgraded and Other Micro Insults 103 Chapter 14 Under-React in Crisis 112 Chapter 15 Overreact to Values Violations 119 Chapter 16 Being Arrested in Hong Kong 124 Chapter 17 LBWA 133 Chapter 18 Never Walk Past Corporate Graffiti 136 Chapter 19 Meetings 142 Chapter 20 Yoda was Right 148 Chapter 21 Don't Be Fooled by "Experts" 153 Chapter 22 Flight Simulator 157 Chapter 23 Everyone Is in Sales 162 Chapter 24 Who Got You Here? 167 Chapter 25 Microscopes & Megaphones, Mirrors & Windows 172 Chapter 26 Teenagers 177 Chapter 27 Learn to Speak 183 Chapter 28 Love the Place You Are In 189 Chapter 29 Don't Drink the Ouzo 194 Chapter 30 Home is Not Where You Go When You Are Tired of Being Nice to People 200 Chapter 31 Become Conscious 207 Chapter 32 You Have the Body of a World-Class Athlete 211 Chapter 33 Run a Marathon or Something Else Really Stupid 221 Chapter 34 School is Never Out 225 Chapter 35 Create Cloud Time and Solve the World's Problems 233 Chapter 36 Everything Matters 237 Final Thoughts... 244 Recommended Reading About the Author