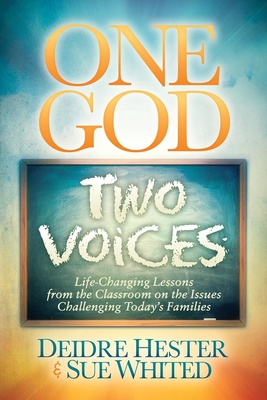 One God Two Voices
Life-Changing Lessons from the Classroom on the Issues Challenging Today's Families
Paperback

* Individual store prices may vary.
Description
Recipe for affecting change: Start with the beleaguered teaching profession and add two best friends of different races, cultures, and ages who meet in the classrooms of a middle school. Simmer with a candid two-way discussion of diverse topics, and baste with an underlying strong faith in God and His Word. The eye-opening result is One God Two Voices: Life-Changing Lessons from the Classroom on the Issues Challenging Today's Families by Deidre B. Hester and Sue E. Whited, which updates and expounds on the authors' earlier work, For Such A Time As This . . . We Are But Small Voices. Expect to be challenged, convicted, and perhaps changed.
Morgan James Faith, 9781630477103, 240pp.
Publication Date: May 10, 2016
About the Author
Deidre Boone Hester holds professional certifications as a secondary English teacher and a guidance counselor with the Florida Association of Christian Colleges and Schools, Inc., and began her career as an educator in 1985. She has taught in public and private schools in Charlotte, North Carolina; Killeen, Texas; Newport News, Hampton, and Suffolk, Virginia; Gates County, North Carolina; Yokosuka, Japan; and in Jacksonville, Florida, where she resides with her family since her husband's retirement from the United States Navy. She and her husband of twenty-seven years are active in ministry at The Potter's House International Ministries, where Deidre continues to serve students at The Potter's House Christian Academy as well as helps with the food, clothing, and discipleship ministry of their church. Sue E. Whited experienced life as a military wife for twenty years before her husband retired from the United States Air Force in Hampton Roads, Virginia, where she completed her bachelor's degree in Middle School and Gifted Education at Christopher Newport College (now University). She worked and taught at three middle schools in Hampton, Virginia, for twenty-fours years while growing in her Christian faith at Liberty Baptist Church. Her retirement from the classroom led to a home in the "Whited Woods" of rural Washington, West Virginia, with her husband of nearly fifty years, and becoming involved in the music, food pantry, and children's ministries of Fairlawn Baptist Church in Parkersburg, West Virginia.