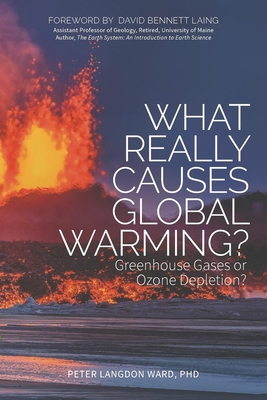 What Really Causes Global Warming? (Paperback)
Greenhouse Gases or Ozone Depletion?
Morgan James Publishing, 9781630477981, 268pp.
Publication Date: November 3, 2015
Other Editions of This Title:
Hardcover (11/3/2015)
* Individual store prices may vary.
Description
Earth's temperature is determined by the thickness of the ozone layer. When this layer is depleted, more solar ultraviolet radiation reaches Earth, increasing temperatures. The ozone layer has been depleted since the 1960s by human-manufactured gases and since 2014 by extensive lava flows from B r arbunga volcano in central Iceland. What Really Causes Global Warming shows that the greenhouse warming theory cannot explain recent climate change. Reducing greenhouse gas emissions would be a total waste of money.
About the Author
Dr. Peter Langdon Ward spent twenty-seven years with the United States Geological Survey as a research geophysicist, branch chief, and program manager, and as a specialist in helping people adapt to the risks from natural hazards that they and their families face. He chaired a committee on disaster warning at the White House, published more than fifty scientific papers, and has been featured on Good Morning America and many regional news programs. For the past nine years, he has worked to resolve several enigmatic observations related to climate change.