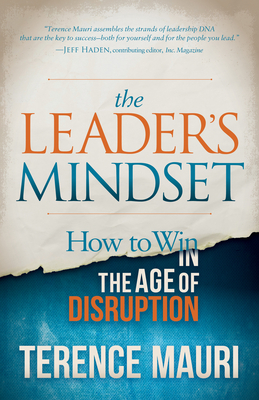 The Leader's Mindset (Paperback)
How to Win in the Age of Disruption
Morgan James Publishing, 9781630478780, 158pp.
Publication Date: October 4, 2016
Other Editions of This Title:
Hardcover (10/4/2016)
* Individual store prices may vary.
Description
"Want to be a better leader? Read "The Leader's Mindset" and then DO WHAT IT TELLS YOU TO DO You won't regret it." --- Chester Elton, New York Times bestselling author of "All In"
"Terence assembles the strands of leadership DNA that are the key to success--both for yourself and for the people you lead." --- Jeff Haden, contributing editor, Inc. magazine
"Insightful leadership wisdom for aspiring leaders distilled into practical, actionable advice." --- Doug Conant, chairman, Kellogg Executive Leadership Institute, and former CEO, Campbell Soup, Inc.
"The difference between the best leaders and the rest is not who they know or even what they know but how they think. This book goes with the practical precision to the cerebellum of leadership." --- Octavius Black, CEO, Mind Gym
"Extraordinary leaders are not born, they're made. This book offers a deep-dive into some of the most practical advice on how to become one." --- Emilia Lahti, Aalto University School of Science and Technology, and founder of the Sisu Lab
Top leadership thinker Terence Mauri unlocks the anatomy of the leader's mindset.
It's time to rip up the rulebook on leadership. The future belongs to a different kind a leader with a different kind of mind. In "The Leader's Mindset: How To Win In The Age of Disruption," Terence Mauri takes you on a deep dive into the hearts and minds of visionaries, risk takers, and pioneers who pursue moonshots, the revolutionary ideas that rewrite how business is done.
The advantages are huge for anyone who can tap the genius of the leader's mindset: purpose, energy, and the opportunity to excel beyond your wildest imagination. Wherever you are, this clever guide is the missing link for a new type of leadership.
About the Author
Terence Mauri is an author, keynote speaker, mentor and advisor to some of the world's most successful companies. He has been recognized as an Inc. magazine Top 100 Leadership Expert and Top 100 Leadership Thinker to follow on Twitter (@terencemauri). Terence serves as a mentor for Future Ideas (www.futureideas.org), an international panel of experts that includes some of the world's biggest thinkers, such as Dan Pink (Drive), Richard Florida (Rotman School, University of Toronto), and Rita McGrath (associate professor at the Columbia University Graduate School of Business). He is also a lead host for 9others.com, a thriving forum for connecting entrepreneurs around the world. You can reach Terence Mauri at www.terencemauri.com.