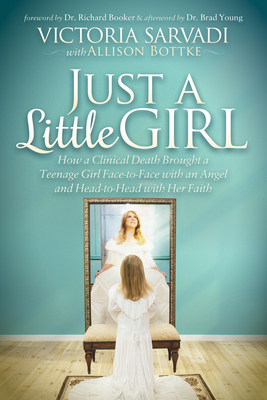 Just a Little Girl
How a Clinical Death Brought a Teenage Girl Face-To-Face with an Angel and Head-To-Toe with Her Faith
Paperback

* Individual store prices may vary.
Description
When Victoria Sarvadi died in 1978, God orchestrated an encounter with an angel to deliver a mandate for her life, and Just a Little Girl is the story of following that calling through decades of searching for spiritual truth. It's the debut memoir of an inspiring woman with keen perception and extraordinary resilience. The main insight of Just a Little Girl is that God's plans, purposes and gifts for our life are irrevocable. Acquiring spiritual wisdom and knowledge is the "race" we need to run and Yeshua--The Crown of Life is the trophy achieved at the end of the race. Just a Little Girl is a memoir that carries the thread of truth that all Christians can trace their faith back to Jewish roots, no matter their denomination. It also poses the argument that God has given everyone a unique purpose, and we can only find true peace in life when we lift the fog of spiritual amnesia that keeps us from knowing God's truth. As we acquire wisdom and understanding about our Jewish roots, we grow closer to Jesus/Yeshua--the Messiah.
Morgan James Faith, 9781630478834, 300pp.
Publication Date: September 6, 2016
About the Author
Dr. Victoria Sarvadi received her Th.M. and Th.D. in 2005 from the former Center for the Study of Biblical Research in Glendora, California, accredited at the time by the University of the State of California. A certified minister in the Hebraic Christian Global Community since 2000, she is a frequent contributor to Restore! Magazine, a publication of the HCGC. She has been a speaker for conferences, congregations, women's ministry groups, Bible studies, and at the Vision for Israel Sukkot Conferences in Jerusalem, Israel. As a featured guest on national and international radio and television programs, her appearances on both the Crossover Program and Brad TV have been seen worldwide. Her Precious Gems teachings on the Jewish roots of Christianity have appeared in numerous publications and will soon be available online at VictoriaSarvadi.com. She has six children, nineteen grandchildren, and is married to Paul Sarvadi, Chairman, CEO, and Co-Founder of Insperity, Inc., a world leader in business and human resources services based in Kingwood, Texas. As co-founders of the Nathaniel Foundation, the Sarvadis philanthropic contributions support numerous charities in the U.S. and abroad. All proceeds from Just a Little Girl will fund the Nathaniel Foundation.