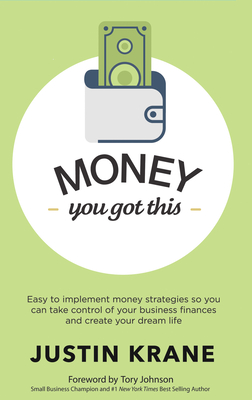 Money. You Got This (Paperback)
Easy to Implement Money Strategies So You Can Take Control of Your Business Finances and Create Your Dream Life
Morgan James Publishing, 9781630479183, 248pp.
Publication Date: October 18, 2016
* Individual store prices may vary.
Description
Dealing with your can be overwhelming and stressful, especially when you don't understand all of the financial mumbo jumbo. Justin Krane takes everyday funny life experiences and turns them into simple money strategies. You won't be bored reading these short stories. You'll feel empowered and have some money clarity. You'll be ready to take your financial life to the next level.
About the Author
Justin Krane is a money strategist for business owners. His mission is to help business owners understand the money side of their business. As a Certified Financial Planner, Justin teaches entrepreneurs how to be strategic with their business money so that they can grow their businesses. Justin isn t about cutting back and living a frugal life. Justin is all about getting the shoes, doing sushi, and living the best life today while saving for the future. He has been featured in CBS, Fox Business News, MSNBC, and SCORE Mentors."