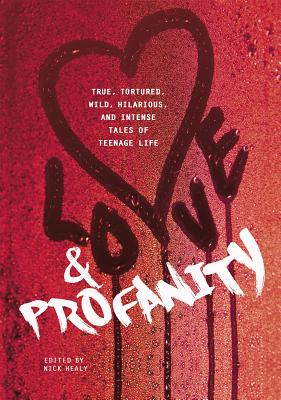 Love & Profanity (Hardcover)
A Collection of True, Tortured, Wild, Hilarious, Concise, and Intense Tales of Teenage Life
Switch Press, 9781630790127, 232pp.
Publication Date: March 1, 2015
* Individual store prices may vary.
Description
Love & Profanity features more than forty brief, brilliant, and unforgettable true stories from writers both renowned and on the rise. Discover strange and surprising scenes of people coming of age amidst the everyday intensity of teenage life. Witness transformative moments arising from the mundane. Behold the young adult in full splendor and horror, bursting with love and profanity.
About the Author
Adam Rex "Three Stories About Water and Vomiting" Adam Rex lives in Tucson. He's the author and/or illustrator of a lot of things, including The True Meaning of Smekday, which is being adapted by DreamWorks into the film Home. He didn't write his YA novel, Fat Vampire, to cash in on the vampire craze; and that's fine, because it didn't. Heather Sellers "Breathless" Heather Sellers is a professor of English. Her books include the memoir You Don't Look Like Anyone I Know, the short story collection Georgia Under Water, a children's book Spike and Cubby's Ice Cream Island Adventure, three volumes of poetry, and three books on the craft of writing. She loves to ride her Bianchi bicycle, preferably in the rain. Heather was born and raised in Florida. Joey Franklin "Girl Fight" Joey Franklin survived his fight with Marty Manzoni and is still friends with both Marty and Amy, though he's changed their names here just in case they remember the story differently. He teaches creative writing at Brigham Young University and is raising three boys that he hopes will be nicer sixth graders than he was. Jon Scieszka "Power Drift" Jon Scieszka was born in Flint, Michigan. The second oldest, and nicest, of six boys. No girls. Author of The True Story of the Three Little Pigs!, The Stinky Cheeseman, Knucklehead, and a mess of others. New series in the works with Abrams about Frank Einstein, kid science genius. With robots. And a chimpanzee. Ali Catt "Polypropylene" Alicia Catt grew up in Wisconsin. In high school she terrorized her mother, rode a skateboard, flunked creative writing, and got suspended for wearing a bra on the outside of her shirt. (Don't ask.) She now lives in Minneapolis with her adopted pit bull, Piggy. Carrie Mesrobian "Why Is It Wet Here?" Carrie Mesrobian is the author of Sex & Violence and Perfectly Good White Boy. She and her older sister were raised in Mankato, Minnesota, by very nice people who didn't deserve such misbehavior from their children. To this day she is still known as "the bad daughter." Melissa Brandt "M-E-L I-S-S-A" Melissa Brandt is an educator and a screenwriter with a script called Chicken Day that is moving ever closer to being realized on the screen. She lives in Rochester, Minnesota, and loves to travel, read, and secretly record the conversations of her teenage daughter and son. She later uses these conversations in her stories. Seriously, she's not to be trusted. Clint Edwards "I Don't Believe You" Clint Edwards hasn't crapped his pants since freshman year, but tomorrow is another day. You can read more about Clint at No Idea What I'm Doing: A Daddy Blog. It's been featured on Good Morning America, The New York Times, and The Washington Post. But that's not the real reason to read it. The real reason is that it will give you a glimpse into the steamy world of adult married life with children, and because he sometimes writes about farts. Pete Hautman "Vietnam, Minnesota" Pete Hautman lives in Minnesota, where he writes whatever he feels like writing, from time travel adventures like The Obsidian Blade to vampire-free romances such as The Big Crunch. His latest book is Eden West, a love story about a teen who grows up in an apocalyptic cult in Montana. His next book will include talking dogs, nanobots, and sasquatches. Kasandra Duthie "Island Girls" Kasandra Duthie lives in Minneapolis, but she grew up on small islands in Washington State. She lives with her patient husband and two hysterical dogs. Kwame Alexander "Alexander the Great" Kwame Alexander is the award-winning author of 18 books, including The Crossover and He Said She Said. When he's not running two literacy organizations, Book-in-a-Day, and LEAP for Ghana, he sits in his study writing love poems for his wife and daughters. Anika Fajardo "Confession" Anika Fajardo was born in Colombia and raised in Minnesota, and her writing about that experience has appeared in various publications. She changed schools in seventh grade but survived. Melodie Heide "First Gear" Melody L. Heide grew up moving between New York, New Jersey, and Pennsylvania but now calls Minnesota home. She writes a lot about the transient life, and her work has appeared in numerous publications. Kyra Anderson "The First Time I Had Sex..." Kyra Anderson lives in western Massachusetts with her husband, writer/illustrator David Milgrim, their dogs, Beegu and Havi, and their and 13-year-old child who loves all things potato, math, gaming, absurdity, and computers. Andrew Gottlieb "Ambush" Andrew Gottlieb lives in Irvine, California, and spends more time than he should letting fly fishing get in the way of his writing. Remarkably, he now helps raise two teenagers. He prefers road trips to work of any sort. Find him at www.andrewcgottlieb.com. Natalie Singer "A Ghost in the Mall" Natalie Singer was born and half-raised in Montreal, Canada, before being uprooted and moved--at age 16--to the mythical, ice-cream-colored land of California, where she had to finish raising herself. There, she discovered burritos, tried to become cool on the streets of San Francisco, and made out with lots of frogs before she finally found a prince. She's now a writer in Seattle. Alexis Wiggins "A Most Dangerous Game" Alexis Wiggins has been writing since she was five years old, when she wrote her first story, called The Lincoln Magic Penny; it was written on her dad's typewriter and may have been the best thing she ever wrote. Alexis loves: reading, teaching teenagers, New York City, lemons, Spain, her hubby and her two little boys. Alexis hates: the feeling of biting into peach fuzz, camping, mean people, and turbulence. Margaret MacInnis "The Causeway" Margaret MacInnis holds MFA degrees from the University of Iowa and Queens University of Charlotte. Her essays have appeared in Alaska Quarterly Review, Brevity, Crab Orchard Review, Colorado Review, DIAGRAM, Gettysburg Review, Massachusetts Review, Mid-American Review, River Teeth, Tampa Review, and elsewhere. Kim Lozano "Orchard" Kim Lozano is a law school dropout who has five kids and wanderlust. She's an editor at a literary magazine and teaches creative writing to people over age 50. Her poetry and prose have been published in The Iowa Review, Poetry Daily, and elsewhere. Steve Brezenoff "Weightless" Steve Brezenoff is the author of the young adul
or
Not Currently Available for Direct Purchase