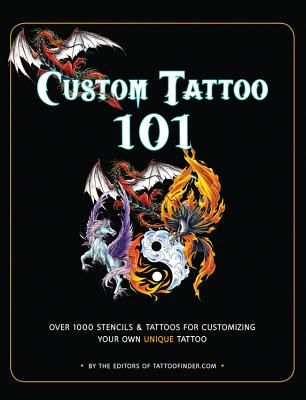 Custom Tattoo 101 (Paperback)
Over 1000 Stencils and Ideas for Customizing Your Own Unique Tattoo
Race Point Publishing, 9781631060236, 256pp.
Publication Date: April 3, 2015
Description
When it comes to permanent ink, you want something both personal and unique. You want a representation of yourself. Most of all, you don't want any surprises.
Custom Tattoo 101 highlights the best ways to custom design your perfect tattoo so it's the correct size, the perfect design, and entirely unique to you. Reference stencils are essential when getting a tattoo, translating the exact specification to a tattooist so the result is precisely what you envisioned. The Editors at TattooFinder.com provide a collection of over 1000 stencils, tips, and designs to help you craft your own unique tattoo including: 50 popular category stencils and hundreds of stunning tattoos for inspiration.
Find out how to combine different tattoos to make one cohesive design, and even how to draw your own perfect reference piece if you are artistically inclined. The result is a design that you can bring to a tattoo studio and get inked--less time in the chair, lower overall cost, and best of all, no more tattoo mistakes
So design your personalized tattoo today, and get ready to get inked
About the Author
TattooFinder.com is a useful and fun tool that customers can utilize to find the designs they need. All artwork has been organized into a fast, powerful and effective search engine. In addition, they've created hundreds of side galleries for visitors to get a broad sampling of what is offered. Most design previews include zoomed-in detail views for an up close and personal look at the artwork.
Advertisement