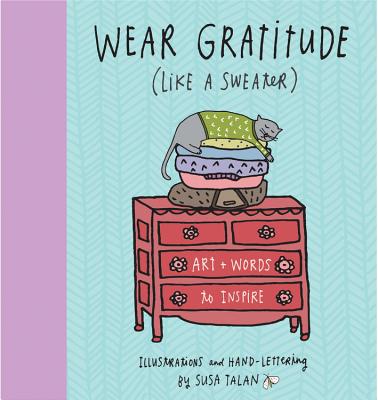 Wear Gratitude (Like A Sweater) (Hardcover)
Art + Words to Inspire
Rock Point, 9781631060281, 96pp.
Publication Date: February 6, 2015
* Individual store prices may vary.
Description
Susa Talan's hand-drawn lettering and playful illustrations animate the wisdom of beloved writers and thinkers such as Virginia Woolf, Rumi, Lao Tzu, Walt Whitman, Thich Nhat Nanh, Ralph Waldo Emerson, and Henry David Thoreau in Wear Gratitude (Like a Sweater).
This gem of a book inspires laughter, contemplation and especially joy in readers of all ages. Susa's own words and insights about the sweetness and challenge of being alive, loving, and finding meaning in the world, contribute a fresh voice, and updated perspective to the tradition of philosophical art.
Richly designed and illustrated, these artful meditations will appeal to young and mature audiences alike, and bring a fresh voice to an ongoing conversation about how to live well in a fast-moving world.
About the Author
At the core of Susa Talan's work is a deep interest in the exploration of mind and heart. With her hand-drawn images and words, she brings together elements of inquiry, timeless wisdom and appreciation for the natural world. In 2012, a year from turning forty, Susa embarked on a daily drawing project called 365 Days of Gratitude. Her purpose was celebration. Throughout that year, she posted art + words illustrating what she was thankful for, engaging her fans in a conversation about how to slow down and enjoy life more. Out of this project, Susa developed a wholesale line of greeting cards and prints that are now sold in shops and bookstores around the US.Susa studied drawing and painting at the School of the Museum of Fine Arts in Boston, and has taught poetry and art to children of all ages. You can find Susa teaching at Squam Art Workshops and on her blog at www.susatalan.com. When not working in her tiny home studio in western Massachusetts, she heads outdoors toward open sky.
or
Not Currently Available for Direct Purchase