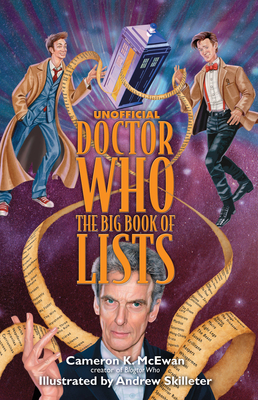 Unofficial Doctor Who (Paperback)
The Big Book of Lists
Race Point Publishing, 9781631060427, 256pp.
Publication Date: April 6, 2015
* Individual store prices may vary.
Description
Whovians rejoice! Blogtor Who is back...
Known for his popular lists, Cameron K. McEwan, author of The Who's Who of Doctor Who, is back with a book that compiles loads of fun facts and never-before-heard tidbits about the Whoniverse. (It's bigger on the inside!)
Pour over loads of fascinating lists about the TARDIS, Gallifrey, and Daleks, as the fandom unites in epic appreciation for The Doctor. Organized by theme, Unofficial Doctor Who: The Big Book of Lists will cover everything over the past fifty years of the epic series including: doppelgangers, popular locales, regenerations, Gallifrey adventures, highest-rated episodes, plots, characters and loads more.
Accompanied by the incredible Doctor Who artwork of Andrew Skilleter and loaded with weird and interesting facts and quizzes, this is the perfect gift item for the timelord lover in your life.
Lists include:
- Actors who have appeared in Star Wars and Doctor Who
- Doctor Who film references
- Top 10 Kisses of the Doctor
- Dopplegangers in Doctor Who
- American Guest Appearances
- Food and Drink in Doctor Who
- "Other" Doctor Who stories (prequels, minisodes, etc...)
- Regeneration Stories
- Gallifrey Adventures
- Alien Team-ups
- People Who Came Back From The Dead
- TARDIS consoles
- Weirdest TARDIS dematerialisations
- Highest-Rated TV Episodes
- Lowest-Rated TV Episodes
Now in the second half of its century, the BBC's sci-fi classic, Doctor Who is a geek's dream TV show and this book is loaded with over 1000 facts and trivia. So grab your sonic screwdriver and unlock secrets of show that makes us excited to be a part of this wibbly-wobbley galaxy.
About the Author
Cameron K. McEwan is the man behindBlogtor Who (www.blogtorwho.com), a fan site dedicated to Doctor Who. Started in 2008, Blogtor Who is now one of the most popular Doctor Who blogs in the world, on some days receiving over 80,000 page views with nearly 40,000 followers on Twitter. Its popularity and success have gained the Blogtor access to the production team, and he is regularly invited to press events (such as the Official Convention in 2012 and the Official Celebration in 2013). He has interviewed Matt Smith, Steven Moffat, Mark Gatiss, Murray Gold, and many others involved in the production of Doctor Who. Cameron makes appearances at conventions, hosting panels, and interviews while also making the odd television appearance on the BBC and in the U.S.Cameron writes for sites like Den of Geek, Cult Box, and The Huffington Post and reviews television weekly on BBC London. He currently lives in London with his three trousers.Andrew Skilleter is an English illustrator best known for his professional association with Doctor Who between 1979 and 1995. He has illustrated hundreds of covers across numerous genres and media including books, DVDs, calendars, and magazines. He also wrote and illustrated Blacklight: The Doctor Who Art of Andrew Skilleter.
Praise For Unofficial Doctor Who: The Big Book of Lists…
"Running at just over 250 pages, this Unofficial Doctor Who: The Big Book of Lists may not be the biggest book of Doctor Who goodness ever produced, but it is certainly up there among the very best." - Starburst Magazine.com
"McEwan has managed to turn the lists into something more - being informative and amusing all at once" - GeekSyndicate.Co.UK
'informative and amusing. will not disappoint'
'a faultless piece of work... ÿunhesitatingly recommended for any fan or student of the show. Unmissable.'
`with over 255 pages jam-packed with facts, miscellany and trivia to test your own knowledge, you're always going to find something new and informative about Doctor Who.'
`Easy to dip in to, and with a relaxed presentation style, the facts and figures in these lists are highly digestible.'
or
Not Currently Available for Direct Purchase