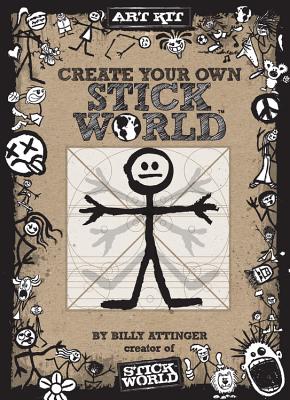 Create Your Own Stick World Kit (Kit)
Includes technique book, pens, and 80 page drawing journal!
Rock Point, 9781631060618
Publication Date: July 15, 2015
* Individual store prices may vary.
Description
From greeting cards and apparel to comics and the internet, stick figure art has exploded. Artists and non-artists alike can express themselves easily with this medium, and stick figures are ideal for social media feeds because of their simplicity. But conveying a story or an idea through drawing--even with a simple stick figure--takes skill. Billy Attinger, founder of the world famous brand Stick World® shows you how to draw stick figures with personality. In a 32-page technique book, featuring quick lessons and creative prompts, the Create Your Own Stick World Kitwill show you how to use cartooning techniques so you can easily learn to draw a stick selfie, stick characters, stick animals and more. With 2 markers, 2 Pencils, 3 Double-Sided Colored Pencils plus a Stickworld Eraser and an 80-page Stickworld sketch journal, you'll try your hand and learn to express emotion, humor, movement, and personality in your stick figures and personalize them with embellishments and accessories. Build and build until you create entire stick cities and engage them in stick wars. The Create Your Own Stick World Kit has everything you need to take your idea to the internet ... and beyond!
KIT INCLUDES:
32-page paperback technique book with tips on how to draw a range of emotions and ages, as well as symbols and accessories.
2 black markers, one thick and one thin, 2 drawing pencils, 4 double-sided colored pencils plus a stickworld eraser.
80-page Stickworld sketch journal contains prompts and plenty of room to draw.
About the Author
Billy Attinger is an artist, entrepreneur, and creator of successful brands, including Stick World(r), an iconic collection of stick figure art whose multi-million dollar program has been licensed and sold successfully throughout major retailers around the world. Billy resides in sunny Southern California where lives with his wife and three beautiful children, whom he credits as the major source of inspiration for his lively, playful, and humorous style. His company, Inconceivable Studios, as well as his portfolio, can be viewed at www.billyattinger.com and www.inconceivablestudios.com.
or
Not Currently Available for Direct Purchase