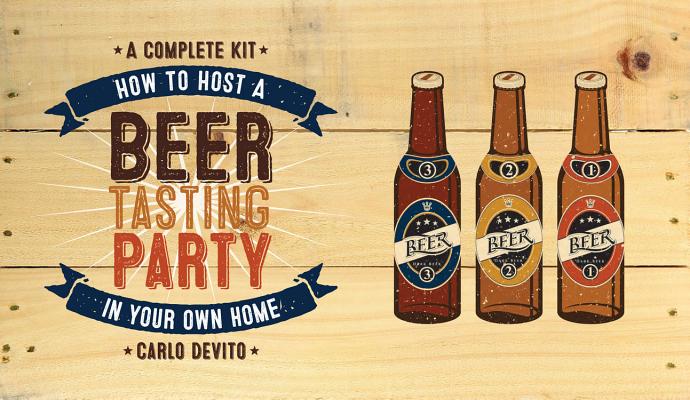 How To Host a Beer Tasting Party In Your Own Home (Kit)
A Complete Kit
Rock Point, 9781631060854, 64pp.
Publication Date: July 13, 2015
* Individual store prices may vary.
Description
Whether you're a brew master or just a beer lover who loves to throw a party, this complete kit is for you. Carlo Devito's How To Host a Beer Tasting Party In Your Own Home kit contains everything you'll need to host a beer tasting in your own home.

A beer-tasting party is fun and educational for everyone from novices to serious craft beer or microbrew drinkers. Within this all-inclusive kit are the elements to be a terrific host. So grab some glasses, start pouring, and let's have a party!
Includes all the brew-tasting party essentials:
-64-page book with full-color photography
-Beer-aroma wheel
-Beer-and-food chart
-20 craft paper beer bottle covers
-Four tasting notepads
-Four 2oz glasses for sampling
About the Author
Carlo Devito is a long time wines, beers and spirits editor, and author of books and magazine articles. He is the author of Wineries of the East Coast. He has traveled to wine regions in California, Canada, France, Spain, and Chile. He has worked with established spirits writers such as Michael Jackson, Clay Risen, William Dowd, and many others.
Joshua M. Bernstein written for scores of magazines and websites, including Bon Appetit, Men's Journal, Details, New York and The New York Times. He is also the author of Brewed Awakening and The Complete Beer Course. As a beer expert, he's been featured on NPR's Marketplace and Beer Sessions Radio.
Julia Burke is a freelance writer with a passion for beer, wine, and food. She grew up in Western New York, where she fell in love with the region's emerging craft beer industry and the Niagara Escarpment wine region. Her work has been featured in Great Lakes Brewing News; New York Cork Report; Skepchick.org; and Isthmus, the alternative weekly newspaper of Madison, Wisconsin, where she currently resides. The first beer she ever loved was Flying Bison's oatmeal stout.
Martyn Cornell is one of the leading authorities on the history of British beer and the development of British beer styles, and his publications include Beer: The Story of the Pint (2003) and Amber Gold and Black: the History of Britain's Great Beer Styles (2010). His blog zythophile.wordpress.com is one of the best-read and most influential blogs on beer in the UK.
Chad Polenz has been publishing reviews on a near daily basis at his website ChadzBeerReviews.com since 2008. Chad is an avid home brewer and an officer in the Albany Brew Crafters homebrew club. You can read his blog: Chadzbeerreviews.com
or
Not Currently Available for Direct Purchase