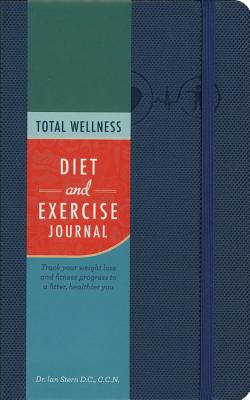 Total Wellness Diet and Exercise Journal (Diary)
Track your weight loss and fitness progress to a fitter, healthier you
Rock Point, 9781631061295, 208pp.
Publication Date: March 27, 2015
* Individual store prices may vary.
Description
There's no need to reinvent the wheel when it comes to starting a healthy lifestyle. Thousands of people have already transformed the way they look and feel, applying the easy-to-follow system that is outlined for you in this journal, and you too can start enjoying the benefits of Total Wellness.
When it comes to achieving success for Total Wellness, Dr. Ian Stern will guide you through three key components to incorporate nutrition and fitness into your daily routine:
- Focus on the Positive When Eating
- Get More Bang for Your Buck When Exercising
- Go for the Goals
A food journal is an intergral part of losing weight, and this diet diary centers on the positive, getting you to think about healthy power foods, water intake, and increasing your power fiber, while taking notes of how you felt to keep you on a good healthy track.
Daily fitness routines are another corner stone to healthy living. The daily exercise portion helps you detail the activity performed and time spent doing it, encouraging you to utilize the exercise specific notes to chart the details of your training.
Remember to chart the fundamentals such as your intensity performed, interval training, and progressive resistance. You can even note in the workout summary how you did for the day. Did you achieve your goals? How was your mood and energy? Be sure to note the changes you want to make the next time.
About the Author
Dr. Ian Stern is a licensed chiropractor and certified clinical nutritionist who has been dedicated to providing a unique approach to healthcare. Practicing for almost twenty years, Dr. Stern has had the good fortune of sharing in the success of 1000's of patients. As someone who has completed the NYC triathlon, is an active participant in Jui Jitsui, along with regularly being in the gym, Dr. Stern recognizes that if people want to achieve optimum health, it is vital to incorporate exercise and nutrition into your daily life.
or
Not Currently Available for Direct Purchase