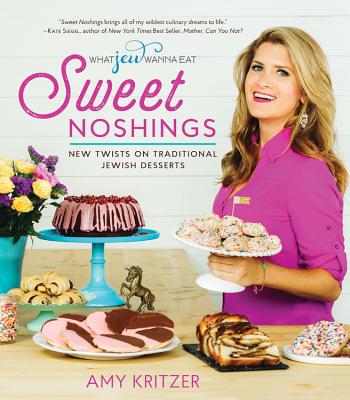 Sweet Noshings
New Twists on Traditional Jewish Desserts
Hardcover

* Individual store prices may vary.
Description
No matter your religion, you'll enjoy these tasty recipes. I know Jew will!
Growing up, Amy Kritzer loved to cook traditional foods with her Bubbe Eleanor. Whether they were braiding challah or rolling out rugelach dough, there was always tons of laughter (and a messy kitchen.) These days, inspired by Bubbe's best dishes, Amy puts her own modern twists on everyone's favorite classic Jewish recipes. She incorporates modern ingredients and techniques to make some of the most innovative Jewish creations ever! Her recipes have been featured in The Huffington Post, The Today Show Food Blog, Bon Appetit and more. Jewish food is totally having its moment.
Sweet Noshings takes the ever-evolving world of Jewish desserts to the next level. With stories of life as a Jew in Texas, and plenty of kitsch, Amy's modern interpretations of classic recipes bring new light to old favorites and creates a whole new unique cuisine. You don't have to be Jewish to love these sweets; just enjoy getting creative in the kitchen.
Over 30 delicious recipes including:
-Chocolate Halva Hamantaschen
-Lemon Ricotta Blintzes with Lavender Cream
-Apricot Fig Stuffed Challah
-Manischewitz Ice Cream with Brown Butter Charoset and Manischewitz Caramel
-Tex Mex Chocolate Rugelach
-Honey Pomegranate Whiskey Cake
-Dark Chocolate, Peanut Butter and Sea Salt Babka
Praise For Sweet Noshings: New Twists on Traditional Jewish Desserts…
"Sweet Noshings brings all my wildest culinary dreams to life. Now, I just need to block out a week to cook, eat, and recover from the inevitable delicious food coma."
- Kate Siegel, Author of New York Times Best Seller, Mother, Can You Not?
"Amy's approach to traditional Jewish desserts is so fun, wacky, and vibrant! For years I've loved the colorful sprinkle-topped desserts that grace the internet on What Jew Wanna Eat, and I am so excited that the world will now have this book to capture that same delicious infectious energy. Now excuse me while I go scarf down a Unicorn Bagel…" - Molly Yeh, Founder of the award-winning blog, My Name is Yeh and author, Molly on the Range
"Amy's bright, colorful personality is perfectly reflected in this gorgeously photographed, fun-to-read book. Her phenomenal creativity shines in recipes like Tzimmes Cake (which is like carrot cake on delicious steroids) and Tex Mex Rugelach!" - Gabi Moskowitz, Author, Hot Mess Kitchen and Producer, Young & Hungry
"Makes a great gift for your Mom- she'll love it!" - The author's mom
Rock Point, 9781631061790, 128pp.
Publication Date: September 5, 2016
About the Author
Amy Kritzer developed "What Jew Wanna Eat" as your source for home cooked (sometimes) kosher goodness. She has always enjoyed cooking and baking, but needed a new goal, a challenge, to get back to her culinary roots. So, she called up Bubbe Eleanor and pleaded for her to send her best recipes. Amy loved cooking these recipes so much, she quit her corporate job and went to culinary school at Le Cordon Bleu in Austin. Now, she spends her days teaching cooking classes, developing recipes, personal chefing and food writing. Amy's recipes have been featured in Cosmopolitan, Bon Appetit, The Today Show and others. In 2012, she was a finalist in Daily Candy's Start Small, Go Big Contest.
or
Not Currently Available for Direct Purchase