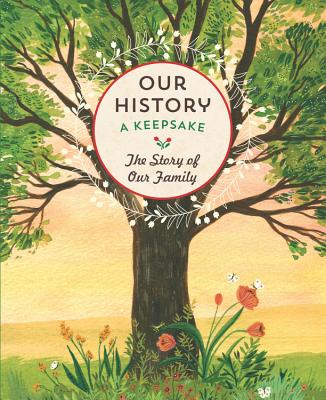 Our History (Paperback)
The Story of Our Family
Rock Point, 9781631062292, 128pp.
Publication Date: October 18, 2016
* Individual store prices may vary.
Description
Your family's memories are the most valuable gift you can pass on to your children. Let this book be your guide as you record the story behind who you are, with pointed questions and prompts getting the down most important details of your family history.

Record not just your genealogy or a list of names and dates, but the historic moments, jokes, and beautiful memories—all the things that make your family what it is. Then bring your extended family and friends in on the act, with sections provided specifically to give distant relatives and family friends the chance to tell their side of the story and round out this beautiful keepsake.

Sit down with your family and encourage them to their memories, creating a wonderful family history for you to keep. Inside you'll find three sections: 1. A family tree 2. Interview sections for detailed information about both paternal and maternal grandparents. 3. A shorter interview section for important family members and close family friends. 

Filled with heartfelt questions and beautiful illustrations by Becca Standtlander, Our History is a beautiful gift in which you can record the complete truth of the most important people in your life and pass it on so that future generations will forever remember where they come from.
About the Author
Becca Stadtlander is a rising star in the world of children's illustration. She studied at the Maryland Institute College of Art, and has illustrated for The New York Times, Chronicle Books, Candlewick Press and Penguin. She is the illustrator of Treasure House for Frances Lincoln Children's Books. She lives in Kentucky.
Jennifer Boudinot, author of Gourmet Pizza Made Easy, brings the same easy to follow step by step directions on how to make the best tasting meatballs and sauces that will have a line of hungry fans outside your kitchen. She is also a bestselling writer and editor who has worked for over a decade with seniors in writing workshops.