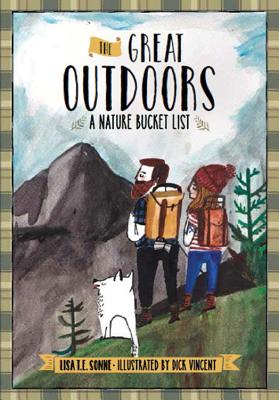 The Great Outdoors (Vinyl-bound)
A Nature Bucket List Journal
Rock Point Calendars, 9781631062346, 128pp.
Publication Date: June 21, 2016
* Individual store prices may vary.
Description
The adventure of your lifetime starts in The Great Outdoors
Make your dream destinations a reality with The Great Outdoors. This bucket list and guided journal contains lists of must-see places throughout the world. Whether you're interested in hiking the toughest trails, taking in the prettiest sights, or visiting the most beautiful national parks, this journal will guide you through any adventure and assist you in accomplishing your dreams.
About the Author
Lisa T.E. Sonne is an award-wining travel writer, photographer, videographer, and author. Her work in print, online, and for TV has taken her to all seven continents. Lisa loves experiential travel and seeks experiences worth recommending, whether ecotourism, "voluntouring," edu-travel, adventure, or discovery. She is concerned about preserving the natural world and cultural traditions. "I'm driven to explore the diversity of what humans and nature have created," Lisa says. "Some people call it 'wanderlust.' But for me, it's a love of wonder that motivates me to pack cameras and keyboard and head out." "Awe comes in many guises," she says. "I felt it watching Swan Lake from the Tsar's box at the Mariinsky Theater in St. Petersburg. And I felt it witnessing the Northern lights above the Arctic Circle and the birth of penguin chicks in the wilderness of Antarctica. I like to convey what I call 'the beauty and the best.'"A fourth-generation Californian, Lisa grew up in the Los Angeles area and has lived in San Francisco, New York City, Moscow (briefly), and just outside London. She and her husband currently enjoy a home base in the Santa Monica Mountains near Seminole Springs Lake in southern California. Lisa's writing has been featured in the Los Angeles Times, Wired.com, History, Yachting, and American Way magazines, as well as publications from Time-Life, AAA, and the National Geographic Society. Lisa has also written and/or produced diverse television series for PBS, Discovery Channel, National Geographic, and Animal Planet. Her video work has explored creativity, animal evolution, and the human brain's mind-body connection. A member of the distinguished Explorers Club, Lisa has had rare adventures. She has floated weightless with astronauts over Russia, crawled through newly rediscovered Mexican caves to map them, and banked 200 feet down as the first woman to "fly underwater" in a winged submersible.Media Accolades: In 2008, 2010, and 2011, Lisa was honored with travel-writing awards from NATJA (North American Travel Journalists Association) for stories about safaris in Kenya, discovering the Baltics, and hang-gliding over America's heartland. Dick Vincent is an illustrator in Manchester, UK. His illustrations are a blend of hand drawn and print. He has illustrated for Flow magazines several times and has an avid Instagram following.
or
Not Currently Available for Direct Purchase