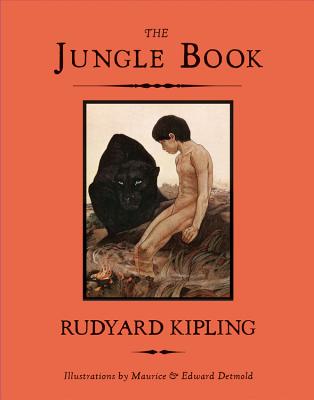 The Jungle Book (Knickerbocker Children's Classics) (Hardcover)
Race Point Publishing, 9781631062520, 160pp.
Publication Date: August 23, 2016
Other Editions of This Title:
Paperback (12/15/2015)
Paperback (11/23/2015)
Paperback (10/17/2018)
Paperback (5/22/2018)
Paperback (3/26/2018)
Paperback (11/27/2019)
Paperback (11/3/2018)
Paperback (4/17/2019)
Paperback (10/16/2018)
Paperback (2/14/2014)
Paperback (12/20/2019)
Paperback (12/22/2019)
Paperback (4/24/2017)
Hardcover (8/20/2015)
Hardcover (6/28/2016)
Paperback (10/1/2015)
Paperback (8/2/2013)
* Individual store prices may vary.
Description
Get lost in the jungle with these dazzling tales of adventure!
The JungleBook is a collection of stories by Rudyard Kipling, originally published in magazines in the late 1800s. These stories, which have enchanted generations of readers, include "Mowgli's Brothers," "Rikki-Tikki-Tavi," and "Toomai of the Elephants," among others. With illustrations by Edward and Maurice Detmold, this beautiful, vibrant clothbound hardcover is unabridged and makes a great addition to every home library.
The Knickerbocker Classics bring together the essential works of classic authors from around the world in stunning editions to be collected and enjoyed.
About the Author
Rudyard Kipling(1865-1936) was a Nobel Prize-winning English writer who today is best known for his wonderful children's stories, which have become enduring classics of children's literature.
or
Not Currently Available for Direct Purchase