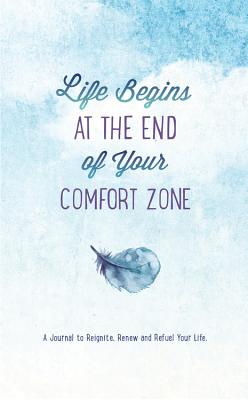 Life Begins at the End of Your Comfort Zone (Hardcover)
A Journal to Reignite, Renew, and Refuel your Life
Rock Point, 9781631062650, 128pp.
Publication Date: October 18, 2016
* Individual store prices may vary.
Description
Reignite, renew, and refuel your passion for life with Life Begins at the End of Your Comfort Zone!
Do you feel like you're stuck in a rut? It's time to step out of your comfort zone and reclaim a renewed vibrancy for life! This guided journal contains exercises, inspirations, and prompts to 'push' you in different aspects of your life.

Reignite your passions by waking up with a purpose, setting goals, incorporating movement into your daily life, and embracing your creativity. Renew you body and mind with exercises to help create more positive thoughts, daily gratitude lists, and meditation rituals.

Refuel your consciousness about life by getting to know your inner self. With plenty of space to write your own thoughts, feelings, opinions, and progress, Life Begins at the End of Your Comfort Zone is the perfect tool to help you live life to the fullest.
This cloth-covered, innovative guided journal includes:
the seven core ideas to help you on your journey for self-knowledge
coloring and drawing pages to help you reignite your creative spark
prompts to 'push' you to restore your passion for life
About the Author
Jacqueline Lewis is the founder of the World Gratitude Map, a crowd-sourcing project and online map that encourages users to document and celebrate the good things in life.