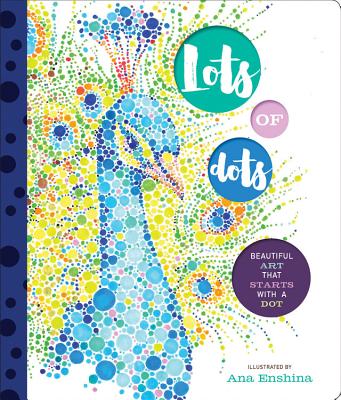 Lots of Dots: Beautiful Art That Starts with a Dot (Hardcover)
Beautiful Art That Starts with a Dot
Rock Point Calendars, 9781631062759, 136pp.
Publication Date: March 15, 2017
Description
Create beautiful art that starts with a dot.
Learn about an easy, approachable technique for creating beautiful, eye-catching art with Lots of Dots. Combining the ideas of coloring, doodling, and hand-lettering, this technique is easy and relaxing as well as allowing you to tap into your creativity.
Lots of Dots shows how to use dots of different sizes and colors to incorporate a pronounced sense of whimsicality into a piece. In turn, this playfulness helps to bring subjects to life as they pop off the page in a succession of vivid hues and dotted forms. This technique is perfect for beginners and for artists who want to explore a new style.
Approximately 20 pages of introduction give step-by-step instructions to create images of increasing complexity. Introductory pages also include over forty thumbnail images that can be used as inspiration.
The book includes templates that are lightly drawn with shapes outlined; the templates include animals - birds, sea life, butterflies, cats, owls; flowers and botanicals; motifs such as decorative borders, mandalas, sun, moon, and hearts; and people. Lots of Dots is printed on paper that will withstand markers, gel pens, colored pencils, crayons, and watercolors, so you can use any medium that inspires you.
About the Author
Ana Enshina was born in Moscow in 1994, and learned to draw when she was five years old. Her mother wanted her to have a beautiful handwriting, so she spent almost single day of last seventeen years drawing and painting. Through the connections she made with great tutors and fellow artists she met along the way, she created her own unique style. A few years ago, she decided to study architecture, but found she couldn't stop painting, and one night while trying a set of new paints her dot drawing style was born. She is grateful for all the friends who inspired her to paint and give her feedback, and for the family who sent her to art school and supported her along the way.
Advertisement