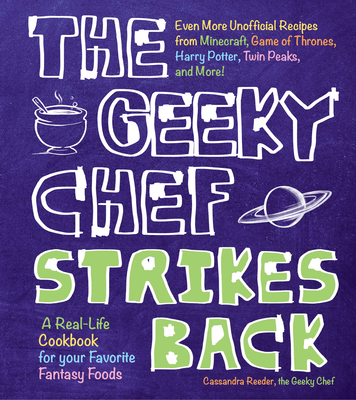 The Geeky Chef Strikes Back: Even More Unofficial Recipes from Minecraft, Game of Thrones, Harry Potter, Twin Peaks, and More! (Hardcover)
Even More Unofficial Recipes from Minecraft, Game of Thrones, Harry Potter, Twin Peaks, and More!
Race Point Publishing, 9781631062933, 152pp.
Publication Date: September 15, 2017
Description
The Geeky Chef Strikes Back is your chance to finally drink Estus, nibble Seed Cakes, slurp White Dragon Noddles, and a lot more.

The Geeky Chef is back with even more delicious, real-life recipes from your favorite sci-fi and fantasy books, movies, TV shows, and video games. Discover the foods you've always wanted to taste from realms like The Lord of the Rings and Harry Potter to The Legend of Zelda, Firefly, Minecraft, Final Fantasy, and more.

In the Geeky Chef Strikes Back, author Cassandra Reeder has imagined the delicious foods in these faraway worlds and created recipes that are sure to transport you to galaxies far, far way. So if you've found yourself craving Pumpkin Juice from Harry Potter, Lingonberry Pancakes from The Big Lebowski, Norma's Cherry Pie from Twin Peaks, Wife Soup from Firefly, or the White Dragon Noodles from Blade Runner, then look no further.

With easy step-by-step instructions and fun theme photos, these creative recipes are perfect for your next big viewing party or your standing reservation for a party of one. Fantasy foods are fantasy no longer
About the Author
The first fictional food recipe Cassandra Reeder made was Tree Star Cookies inspired by The Land Before Time at age six. Her geeky nature combined with her love of cooking led to the creation of geekychef.com. The goal of Geeky Chef is to help the geek community bring their food fantasies to reality. So if you've ever found yourself drooling over Pumpkin Pasties in Harry Potter, curious about Lembas Bread from Lord of the Rings or wondering if the cake is really a lie, this blog is for you. Each dish is thoroughly researched to make the final product taste and/or look as close to the source material as possible. Of course, everyone will imagine differently, but Cassandra hopes to give dedicated geeks a run for their tastebuds.Cassandra currently lives in Portland with her fiance and pet parrot. Despite what conclusions you may have come to, she is not actually a pirate. Well, she is mostly not actually a pirate.
Advertisement