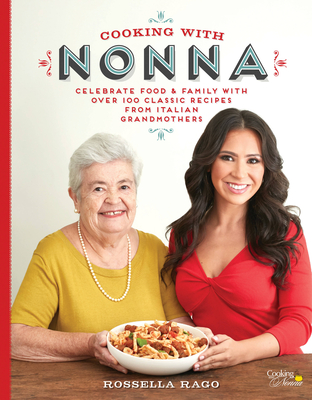 Cooking with Nonna (Hardcover)
Celebrate Food & Family with Over 100 Classic Recipes from Italian Grandmothers
Race Point Publishing, 9781631062940, 248pp.
Publication Date: March 15, 2017
Description
Learn to cook classic Italian recipes like a native with the long-awaited debut cookbook from Rossella Rago, creator of the popular web TV series Cooking with Nonna

For Rossella Rago, creator and host of Cooking with Nonna TV, Italian cooking was never just about the amazing food or Sunday dinner; it was also about family, community, and tradition. Rossella grew up cooking with her Nonna Romana every Sunday and on holidays, learning the traditional recipes of the Italian region of Puglia, like focaccia, braciole, zucchine alla poverella, and pizza rustica.

In her popular web TV series, Rossella invites Italian-American grandmothers (the unsung heroes of the culinary world) to cook with her, learning the classic dishes and flavors of each region of Italy and sharing them with eager fans all over the world. Now you can take a culinary journey through Italy with Rossella and her debut cookbook, Cooking with Nonna, featuring over 100 classic Italian recipes, along with advice and stories from 25 beloved Italian grandmothers.

With easy-to-follow step-by-step instructions and mouthwatering photos, Cooking with Nonna covers appetizers, soups, salads, pasta, meats, breads, cookies, and desserts, and features favorite recipes including:
Sicilian Rice Balls
Fried Calamari
Stuffed Artichokes
Orecchiette with Broccoli Rabe
Veal Stew in a Polenta Bowl
Struffoli
Ricotta Cookies
Homemade Pasta
Handcrafted Spaghetti with Meatballs
Four-Cheer Lasagna
If you are ready to bring back Sunday dinner and learn how to make Italian food just like nonna, then look no further
About the Author
Rossella Rago is the host of the popular web cooking show Cooking With Nonna. On the show, Rossella invites an Italian-American nonna to cook with her, sharing traditional Italian recipes and fond memories of childhoods in Italy. Rossella has traveled the country and performed cooking demonstrations in many cities across the United States with local nonnas as her partners.In 2010, Rossella, together with her mother and her Nonna Romana, participated in the "Italiano Battle" episode of the Food Network's 24 Hour Restaurant Battle; Team Nonna won. Rossella spent her childhood in the kitchen with her maternal Nonna Romana, learning the long legacy of recipes from Puglia passed down through the generations for centuries. Launching Cooking with Nonna has allowed Rossella to expand her culinary expertise to much of the rest of Italy.
Advertisement