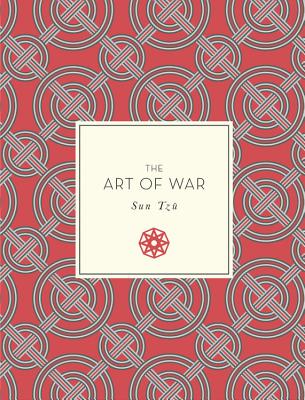 The Art of War (Knickerbocker Classics) (Paperback)
Race Point Publishing, 9781631063299, 268pp.
Publication Date: March 1, 2017
Other Editions of This Title:
Hardcover (5/28/2013)
Paperback (5/2/2015)
Paperback (3/3/2008)
Paperback (2/14/2018)
Paperback (6/29/2018)
Paperback (7/2/2018)
Paperback (10/16/2017)
Paperback (10/18/2016)
Paperback (8/9/2013)
Paperback (10/19/2013)
Paperback (8/6/2016)
Paperback (11/1/2010)
Paperback (11/13/2012)
Paperback (1/27/2012)
Hardcover (2/25/2016)
Paperback (9/7/2016)
Paperback (11/9/2011)
* Individual store prices may vary.
Description
One of the oldest collections of military wisdom, Sun Tzu's The Art of War's collection of maxims and proverbs stands up as an effective philosophy of life. 

The Art of War is the oldest and most influential military strategy text in existence. Ancient Chinese general, military strategist, and philosopher,  Sun Tzu's, teachings on how to successfully respond to and handle situations of conflict lives on as a must-read for for today's business leaders, politicians, and anyone heading into heated situations. Whether you approach this reading for its historical significance, or choose to apply this knowledge toward achieving success in your own life, this collection of mantras and proverbs is certain to leave you enlightened.
This original translation by Lionel Giles of The British Museum in 1910 comes elegantly designed in a clothbound edition, and features an elastic closure. Modern expert, Michael Evans, provides a new introduction in this newly produced edition.
About the Author
Sun Tzu (c. 6th century BCE) was a Chinese general whose life is shrouded in mystery. It is believed that he served King Helu of Wu, and that he rose to fame as a result of his successful military exploits. Today he is a legendary figure in Asia, and his works are cited in every discipline from sports to politics in the West.
Lionel Giles (1875 – 1958) was a British sinologist, writer, and philosopher. Lionel Giles served as assistant curator at the British Museum and Keeper of the Department of Oriental Manuscripts and Printed Books. Giles is most notable for his 1910 translation of The Art of War by Sun Tzu and The Analects of Confucius.
Michael Evans is the General Sir Francis Hassett Chair of Military Studies at the Australian Defence College in Canberra and a professor in the School of Humanities and Social Sciences at Deakin University in Melbourne. He is a former Head of the Australian Army's Land Warfare Studies Centre at the Royal Military College of Australia, Duntroon and has held fellowships at King's College London, the universities of York and Cape Town, and at the Australian Defence Force Academy at the University of New South Wales.