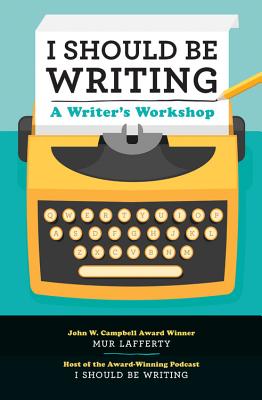 I Should Be Writing (Paperback)
A Writer's Workshop
Rock Point, 9781631063657, 160pp.
Publication Date: August 22, 2017
* Individual store prices may vary.
Description
I Should Be Writing is everything you'd hope to find in a writing workshop, condensed into one highly effective journal. It's time to stop dreaming about what you want to write and finally do it!

Let award-winning podcaster Mur Lafferty, who in the past has interviewed authors including John Scalzi, Neil Gaiman, Gail Carriger, Adam Christopher, and Kameron Hurley, guide you through the nuts-and-bolts process of honing your craft, including which writing myths to ignore, how to refine your creative process, listening to your inner muse while ignoring your inner bully, and more. 

This book also contains writing exercises that will help the blossoming writer strengthen the writer's muscle of writing every day. These include everything from situational writer's prompts to lists of ideas writers should try to jot down between writing sessions.

With this helpful guide, you can make the phrase, "I've always wanted to write a story..." a thing of the past. Because you should be writing!
About the Author
Mur Lafferty's podcast, I Should Be Writing, has run for free, since 2005, helping new writers overcome both emotional ("Rejection! My career is OVER!") and craft-specific ("How do I choose a POV for my novel?") writing problems. She has interviewed several notable authors including John Scalzi, Neil Gaiman, Gail Carriger, Adam Christopher, and Kameron Hurley. The show reaches more than 8,000 listeners each week. Mur has been a podcaster for 11 years and has won the Podcast Peer Award and three Parsec Awards. She is also the winner of the John W. Campbell Award for Best New Writer and of the Manly Wade Wellman Award. In 2015 she was inducted into the Podcaster Hall of Fame. She has hosted and/or created shows for Tor.com, Lulu, and Angry Robot Books, as well as created several of her own shows, like Geek Fu Action Grip and I Should Be Writing. Her newest show, Ditch Diggers, looks at writing from a business point of view.
Praise For I Should Be Writing: A Writer's Workshop…
Bite-size, easy-to-read chapters coach new writers through everything from imposter syndrome to writer's block. 
- The Writer