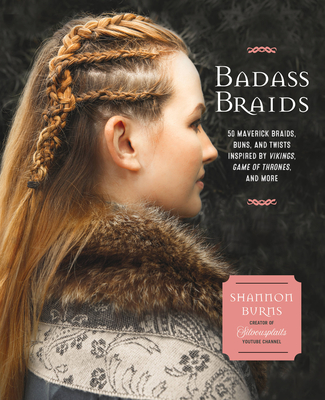 Badass Braids (Paperback)
45 Maverick Braids, Buns, and Twists Inspired by Vikings, Game of Thrones, and More
Race Point Publishing, 9781631064388, 192pp.
Publication Date: April 10, 2018
* Individual store prices may vary.
Description
Recreate the braids, buns, and twists of your favorite historical, sci-fi, and fantasy heroes and heroines with Badass Braids. Step-by-step, illustrated instructions will show you how to make the hairstyles from Game of Thrones, The Hunger Games, Star Trek, Star Wars, The Legend of Zelda, Vikings, The Lord of the Rings, and more.

When she's not studying for her PhD in social neuroscience, Silvousplaits (a.k.a. Shannon Burns) is creating and posting weekly instructional videos on her YouTube channel of DIY hair art that mimics the hairstyles of valiant men and women in the best historical, sci-fi, and fantasy shows and movies.

In Badass Braids, Shannon shows you how to transform your hair, step by step. The book covers braids and styles from a full spectrum of fantasy worlds (and galaxies), from ancient adversaries and viking warriors to romantic renegades and sci-fi heroines.

With an introduction to the styling techniques for different kinds of basic braids, interviews with behind-the-scenes stylists and actors, and original styles inspired by fan-favorites, you will learn to recreate the hairstyles of  Katniss Everdeen (The Hunger Games: Mockingjay), Anne Boleyn (The Tudors), the Norse king Ragnar Lothbrok (Vikings), Daenerys Targaryen (Game of Thrones), and many more.

Badass Braids is the perfect gift for geeky men and women of all ages!
About the Author
Silvousplaits, also known as Shannon Burns, runs one of the most influential movie and TV hair tutorial channels on YouTube (www.youtube.com/user/silvousplaits). She is the author of Badass Braids: 45 Maverick Braids, Buns, and Twists Inspired by Vikings, Game of Thrones, and More. By day she is a social neuroscience PhD student, but in her free time she specializes in making videos and pictorials that replicate the fantasy, sci-fi, and historical hairstyles of popular media, such as Game of Thrones, Lord of the Rings, Vikings, Star Wars, etc. She started her Internet hair adventures in February 2013, after a post to reddit.com/r/gameofthrones went viral. Since then, her tutorials have been featured on HBO Watch, mtv.com, Buzzfeed, and the History Channel. She also posts tutorials for her own original designs from time to time, as well as basic hairstyling tips and haircare information based on scientific research. Outside of YouTube, she provides personal hairstyling services.